War affects children in unforeseen ways
More than 2 million children have been separated from a parent during the Iraq and Afghanistan wars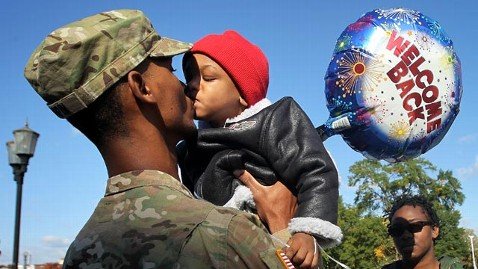 "My husband has probably been gone for 80% of their lives," Seligman said of their children when I visited the family in November at their home in South Carolina. Their daughter, now 10, and son, 8, laughed and played while clutching that same GI Joe doll and a pillow with a picture of their dad, Army Capt. David Seligman.
The family stood out from other military families I met because they had, early on, connected with military-referred therapists. The children regularly saw their "feelings doctor," as did their mother and father.
A spouse teetering on the edge
David Seligman, a decorated service member who's done three deployments, was home when I visited but had to leave after our interview. He wasn't going to war this time, but to Georgia to take an eight-month career advancement course. That meant that he'd only get to come home once a month at most.
It was difficult explaining to his children that Daddy was going to a classroom like they did and wouldn't be in danger. He encouraged the kids to ask questions. They wanted to know if he was going to wear a helmet when he did homework.
This is how the Seligman household works -- every time the 36-year-old soldier leaves, the couple tries to keep communication strong and constant. He sends them letters with drawings. They color them in and mail them back. They send him the beginning of a story, and he fills in a part; they continue the plot.
The family gave up Skyping when he was in Iraq in 200
"It was almost cruel to them to be like, 'Look, there's Daddy, you can see him, but you can't touch him or smell him," David Seligman told me.
Seligman served in the Army Reserve from 1996 to 2000. He was in college and Melissa had just finished graduate school when the 9/11 terror attacks happened. He was gripped him with an overwhelming urge to serve again. After discussing it with Melissa, he joined. The two married in June 2002. He left for Afghanistan in 2004 on a four-month deployment.
His daughter was then 6 weeks old.
"She won't remember anything, I thought; so what, Melissa will be there to handle things," he recalled. "I didn't feel like it was long enough for anybody to feel anything."
But Melissa wasn't handling it well. She was suffering from what she now recognizes was post-partum depression. But she was afraid to say anything. She recalled the mantra she repeated in her head.
I have to do this perfectly. I need to be good at this, because if I'm not good at this, I'm failing him.
In the brief time that her husband came home -- before he deployed to Iraq in 2005 -- Melissa got pregnant again.
While he was gone, her daughter's crying and banging of her head and the demands of a newborn consumed Melissa. An aspiring writer, she started to tell her story on a blog and on paper, an outpouring that turned into a memoir, "The Day After He Left for Iraq."