War affects children in unforeseen ways
More than 2 million children have been separated from a parent during the Iraq and Afghanistan wars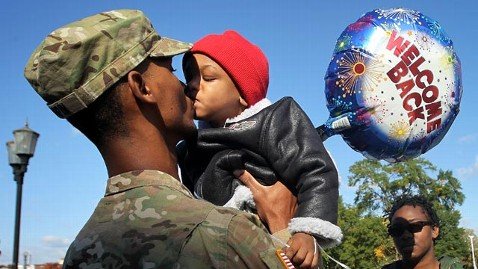 When Melissa Seligman's husband left on his second deployment to Iraq in 2005, their 2-year-old daughter began banging her head on the floor. The Army wife tried to rock the girl, sing to her. With a newborn to care for, too, sometimes all Melissa could do was quickly slide her hand between the toddler's head and the floor.
Exhausted and desperate, Melissa rushed to the store, wailing children in tow. She found a GI Joe doll with black hair like her husband's and placed it in her daughter's hands. "Daddy," the girl said. She stopped crying and stopped hurting herself.
Looking back, the 36-year-old mother remembers how some people, including other military spouses, dismissed her daughter's behavior as typical tantrums. "But I knew something was wrong with her," Seligman said. "I knew this child felt deeply the loss of her dad."
For years, military parents facing a deployment have said the same refrain: "My child is so young, they won't remember."
But very young children -- even babies -- can suffer psychological stress, developmental problems and cognitive damage when a parent goes to war, according to recent research by the Boston University School of Social Work.
For military youths in general, researchers have also found they are more likely than their civilian peers to have trouble in school and experience higher levels of anxiety and depression.
"What we're seeing over the last decade is an increase in kids being seen for behavioral health visits. We know there has been an increase," said Barbara Van Dahlen, a child psychologist. In 2005, she founded Give an Hour, a national nonprofit network of nearly 7,000 mental health providers who volunteer their services to warriors and their families.
"This is not shocking to those of us who work in this space," she said. "This is what you expect when you've got stress beyond what kids can successfully manage."
A generation raised by war
The Seligman children are among the more than 2 million who have been separated from their service member parents, both fathers and mothers, because of combat deployments, according to "The Future of Children," an academic series co-authored by psychiatrist and retired Army Col. Stephen Cozza, a researcher with the Center for the Study of Traumatic Stress.
America is raising a uniquely stressed-out generation of military children, other researchers say. Those who were 5 when the September 11 terror attacks happened are now 17; war is all they've known. While military children have always faced challenges and demonstrated resiliency, these children have parents who've been deployed multiple times.
Military spouses told me story after story about not just one or two birthdays missed, but about struggling to comfort children whose entire lives were lived essentially without one parent.
How Iraq and Afghanistan service members and their partners parent is being studied by Ellen DeVoe, a clinical social worker at Boston University School of Social Work. She's found that male service members tend to minimize their importance to their young children, and their female partners feel left out. The children tend to mirror the way their parents handle deployments.