Gov. Brown signs latest relief package for water infrastructure, farmworkers
Water now $1,350 per acre-foot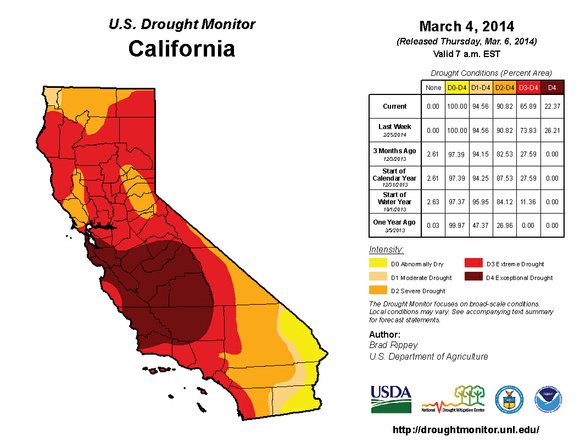 Gov. Jerry Brown this week signed a $687 million relief package for infrastructure improvements, emergency water shortages and money for agriculture statewide as the drought continues to press finances from water table to dinner table.
Both houses of the state legislature gave unanimous support to the measure which will include efforts to improve groundwater management and rainwater capture. It will also send money to communities at risk of running out of drinking water and includes food and housing assistance for farmworkers whose fields have been laid fallow. There is another $1 million slated for a water conservation public awareness campaign.
"Legislators across the aisle have now voted to help hard-pressed communities that face water shortages," Brown said. "This legislation marks a crucial step—but Californians must continue to take every action possible to conserve water." Most of the money, $549 million, comes from water and flood-prevention bonds voters approved in 2006, with smaller amounts from the state's greenhouse gas reduction program and the general fund.
The showers last weekend have had minimal effect on the state landscape as produce and livestock numbers throughout the state have taken a hard hit.
In a UC Davis study conducted last month, the Cattleman's Association was surveyed to see how the dry conditions were impacting their industry and way of life. Most said their costs are rising, forcing them to purchase more expensive hay, while some have had to sell off cattle. "The drought is particularly deep," said Ken Tate, a botanist at UC Davis. "It's affecting ranchers across the entire state...nobody's really immune to it." Tate added that farmers who grow their own crops rely on irrigation systems, and with the shallow snowpack in the Sierra Nevadas some reservoirs may not have an adequate supply of water this summer.
California has lost a minimum of 10 percent from the annual $45 billion it receives off of agricultural products. With this dire news, some farmers have resorted to a mysterious tool for locating underground water. Fans of the old West may remember seeing or at least hearing about a "divining" rod—that wishbone-shaped device that prospectors once used to find underground water. Today, so-called "dowsers" or "water witches" are being used by some desperate farmers to save their crops. These copper sticks, or "witchers," are being used in desperation by the nation's fourth-largest wine maker, Bronco Wine Co. in Ceres within Stanislaus County, which hopes its 40,000 acres of vineyards won't go dry. Dozens of smaller farmers and homeowners in the Central Valley are paying dowsers to locate water on their properties. Hydrologists at the United States Geological Survey say dowsers are only successful in areas where underground water is known to be abundant.
The "Drought Monitor" report issued yesterday by the National Weather Service revealed that California remains in "exceptional" drought, down slightly from 26 percent last week. The rain did temporarily ease irrigation requirements and aided drought-stressed rangeland and winter grains (rye, wheat, barley, triticale), but the storm moved too fast southward to provide optimal amounts of moisture in the state's key watershed areas.
Now farmers have begun to lobby for a ban on "fracking," the controversial method of injecting huge amounts of water underground to tap petroleum reserves. This week, 145 farmers delivered a petition to Brown's desk calling for a moratorium on the practice, citing that severe drought conditions are not the time to increase the presence of an industry that requires mass amounts of water. "Fracking makes competition for California's water even more fierce, which could have a significant negative effect on farmers, ranchers and vintners," said Paula Getzelman, owner of Tre Gatti Vineyards in Monterey County.
The advocacy group Food and Water Watch announced Monday that the price of water has skyrocketed from $135 an acre-foot last year to about $1,350 an acre-foot by the second week of February.