The Williams Brothers have developed young tennis players for more than 40 years
Duo runs the Venus and Serena Williams Tennis Academy at the Rancho Cienega Sports Complex
Jason Lewis | 3/6/2014, midnight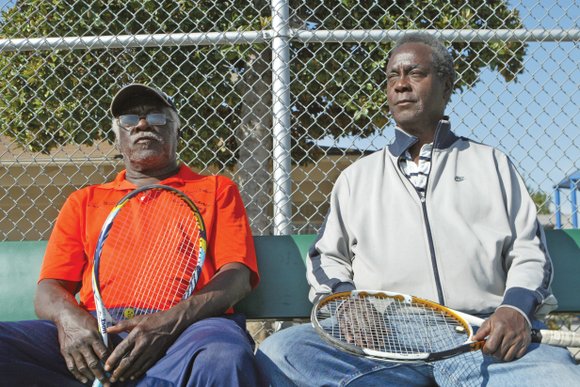 The Williams brothers created a hotbed for tennis talent, and they had some of the best young tennis players in the area.
"We had so many juniors out here that were tough," Fred said. "It was like a haven because we had so many good players. Even some of the White juniors started coming over here. We had a lot of the top players in Southern California."
Tennis is known as a rich White sport, but the Williams brothers created an environment that Black kids could excel in.
"We had those kids coming out," Richard said. "They were very enthusiastic about playing. It was good."
Fred recalls the first time Ashe, one of the greatest tennis players ever, came out to their training session, and he was shocked to see so many young Black tennis players who could play the game at a high level. He was so happy with what he saw that he spent severals hours playing with the children, when he only planned to stop by for a short period of time.

The Williams brothers' main goal is to get kids to college, and they have succeeded at that.
"We've helped people get college scholarships," Fred said. "USC, Georgetown. Now most of them are going to the Black colleges. We've had about nine go to Morehouse. About eight went to Clark."
The Williams brothers helped one family obtain scholarships for all six of their children.

"Otherwise they would not have been able to go to college, it was too much money," Richard said.

The program that the Williams brothers run is also about education, because without the grades, the athletic and tennis abilities are wasted.

"We would question them on math, or on Black history," Fred said. "Before they would leave the court, they would have to tell us something."
Tennis is a very expensive sport, so the Williams brothers have also worked out a manageable price for families who cannot afford typical tennis rates. Their goal is to help out their community, and they have succeeded at an extremely high rate at doing that. www.venusserenatennisacademy.org.