The Williams Brothers have developed young tennis players for more than 40 years
Duo runs the Venus and Serena Williams Tennis Academy at the Rancho Cienega Sports Complex
Jason Lewis | 3/6/2014, midnight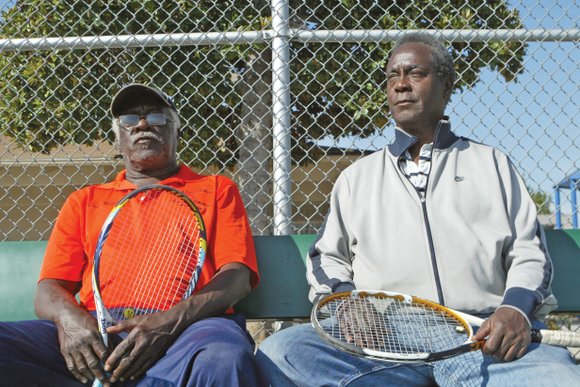 In the tennis world, the Williams sisters are royalty, as Venus and Serena hav
e continued to rack up Grand Slam titles and Olympic gold medals. But they are not the only well known Williams siblings. The Williams brothers, Richard and Fred (no relation to the Williams sisters), have made their mark on the sport for more than 40 years, and they have helped more than 200 young tennis players obtain college scholarships. Most of those players are young Black kids from South Los Angeles.

The Williams brothers played a role in developing the Williams sisters, as Venus and Serena trained under Richard and Fred at Rancho Cienaga Sports Complex when they were kids. The Williams sisters' father, Richard Williams, was the driving force behind his daughters becoming dominant tennis players. He learned how to play tennis during his younger days, and he was first taught the game by Richard Williams, brother of Fred. Knowing that the Williams brothers knew their stuff, father Richard would drop off his daughters to them for training.

The Williams brothers were born and raised in Watts, and they started playing tennis at Roy Rogers Park, now known as Ted Watkins Park. They attended Jordan High School, where they figured out that tennis would be their route over football, basketball, or baseball, which a lot of Black athletes were playing.

"I realized that when I was in high school, I wasn't going to play football," Richard said. "It was too rough, and basketball, you had to be tall. I could play basketball, but I realized that I was going to be sitting on the bench."
Richard was on the basketball team at Jordan, but heading into his senior season, the coach let him know that most of the players from the team that had made the playoffs the year before were coming back, and he probably would not get a lot of playing time. Richard saw the writing on the wall, and he knew that in a sport like tennis, everybody played, so he would have more opportunities.

As a Black athlete, Richard was quicker than most of his opponents, who were mostly White. He focused on his tennis skills, and he became the first Black player to be named to the Los Angeles City Section All-City team. His accomplishments earned him a tennis scholarship to Pepperdine University.

Both of the Williams brothers graduated from Cal State University Los Angeles, and played tennis in the military. After their playing days were over, they did not leave the sport. They decided to help younger players, and they knew that with the athletic abilities in the African American community, they could produce some outstanding tennis players while giving children an alternative to street life.

"Kids would come out, and they were athletically inclined, which means that they can pick up on tennis a lot quicker," Richard said. "One of the reasons why I was able to pick up on tennis a little faster was the fact that I did play football, I did play basketball. If we could get more kids from these different sports, oh my God. Even (Arthur) Ashe said it, that if you get these kids from the inner city to play some tennis, it's going to be a different situation."