Obama aims to bypass Congress with 'My Brother's Keeper' initiative
Plan reaches out to nonprofit foundations to implement his agenda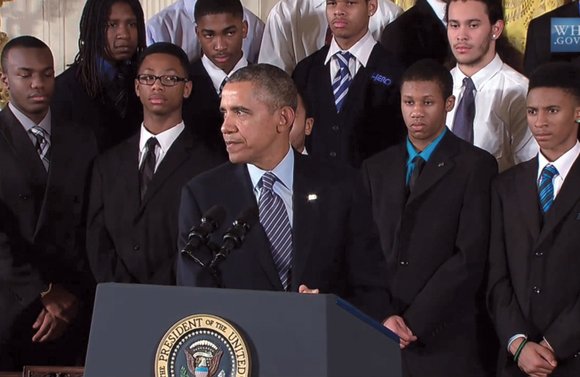 The foundations listed thus far include a roster of heavy hitters. They include The Annie E. Casey Foundation, The Atlantic Philanthropies, Bloomberg Philanthropies, The California Endowment, The Ford Foundation, The John S. and James L. Knight Foundation, The Open Society Foundations, The Robert Wood Johnson Foundation, The W.K. Kellogg Foundation, and The Kapor Center for Social Impact.
Their initial goal, an expenditure of 200 million dollars, seems like an enormous sum to start a philanthropic enterprise. But upon closer examination this is not so impressive. Spread out over five years, this funding comes out to $40 million per annum, not a princely sum at all considering it is meant to uplift all the young men of color across the continental United States plus Alaska and Hawaii.
Thus far, no specifics have been worked out. Over the next three months areas will be selected and prioritized, the all important methods of evaluating which programs actually work, and other large and small details will be determined and hopefully, ironed out.
For Obama's core group of original supporters, this possibly will draw happy tidings, as many, especially celebrities from the prominent Hollywood liberal bastion, were disappointed by the president's unwillingness to directly challenge his Republican opposition. Black constituents may finally commend the chief executive for making the first steps towards effecting meaningful change in their community.
"My Brother's Keeper" is likely meant to be a partnership with "The Promise Zone," announced at the State of the Union Address and earmarking five geographic areas deemed hardest hit by the recession and therefore eligible for federal assistance. Other programs are likely to follow, and will surely solidify another label Obama shares with Roosevelt: that of a Socialist or further left, a Communist.
While the president's selection of sources to bypass Congress to fund his initiatives maybe a novel approach, these proposals are not without precedent. Michael R. Bloomberg's Young Men's Initiative launched during his tenure as mayor of New York City in 2011 earmarked some $127 million from the public and private sectors for the advancement of Black and Latino young men. The jury is still out on merits of this program, which Bloomberg's successor Bill de Blasio has pledged to continue and build upon.
More recently and closer to home, The California Endowment's statewide "Sons and Brothers" campaign begun in the last quarter of 2013 with some $50 million proposed to address such fundamental obstacles as discipline and behavioral problems in the educational and justice systems that inhibit young boys' progress through the school system. These organizations are among the 10 original participants listed as part of "My Brother's Keeper," and the two programs will likely be absorbed in the president's larger initiative. Such a massive undertaking will bring with it numerous logistical and execution difficulties. Only time will tell how it's overall success will impact those it is designated to serve.