Local Black women become pioneers from the arts, sports and in politics
Celebrating the 'sheroes' among us
There has always been a pioneering spirit among Black women in Los Angeles and throughout the nation. That courage and character—not often recognized by contemporaries—may be traced as far back as businesswoman Biddy Mason who did everything from manning a stage coach to founding the city's African Methodist Episcopal Church, to journalists Charlotta Bass and Ruth Washington who elevated women into Los Angeles publishing; political pioneers Shirley Chisholm, Barbara Jordan and Yvonne Brathwaite-Burke, to present-day "sheroes" some of whom may travel in famous circles, and others who often toil in obscurity to brighten the future for the next generation of Black girls.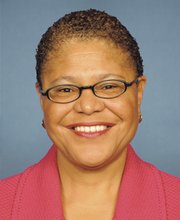 March is Women's History Month, a celebration of the accomplishments that women have made throughout the nation's history from colonial poet Phillis Wheatley to first lady Michelle Obama, the latter joining her husband, President Barack Obama, this spring to spotlight the many achievements women are credited for since our nation's founding.
"As part of a centuries-old and ever-evolving movement, countless women have put their shoulder to the wheel of progress—activists who gathered at Seneca Falls and gave expression to a righteous cause, trailblazers who defied convention and shattered glass ceilings; millions who claimed control of their own bodies, voices and lives. Together, they have pushed our nation toward equality, liberation and acceptance of women's rights—not only to choose their own destinies—but also to shape the futures of peoples and nations," President Obama said March 1.
Los Angeles certainly has its share of present-day women trailblazers. This past Sunday, millions around the world watched the Academy of Motion Picture Arts and Sciences (AMPAS) honor the best and brightest in the film industry and at the helm of the festivities was Cheryl Boone Isaacs. Isaacs has served with AMPAS for 21 years and last summer became the organization's first African American president and only the third woman to hold the post, following Bettie Davis in 1941 and Fay Kanin in 1979.
Audiences this past year have applauded a new look to Hollywood both in front and behind the camera over the past year with the critically-acclaimed films "Lee Daniels' The Butler," "Mandela: Long Walk to Freedom" and "12 Years A Slave." When Issacs was named to the post, she commented: "There are a lot of new voices...a lot of new talent. We are committed to showcasing that talent." Before her latest position, Issacs was Paramount Pictures' executive vice president of worldwide publicity, orchestrating the marketing campaigns for Best Picture winners Forrest Gump (1994) and Braveheart (1995). Issacs once served as president of CBI enterprises Inc. where she consulted on the films "The King's Speech" (2010) and "The Artist" (2011) each receiving the Academy Award for "Best Picture."
Isaacs and practically every Black woman who has dared to step into a "White man's world" has followed time-honored traditions of character, confidence and poise in applying herself to new responsibilities that, one generation ago, would not have been conceived of. "It's different being a minority in a majority space," Isaacs told the Huffington Post last week. "My parent's favorite phrase was 'just get above it' and I must say that I have to put that into practice here...but it doesn't stop your personal self doubts."