Lancaster and NASA unveil refurbished F/A-18 Hornet
Display located in front of Lancaster Municipal Stadium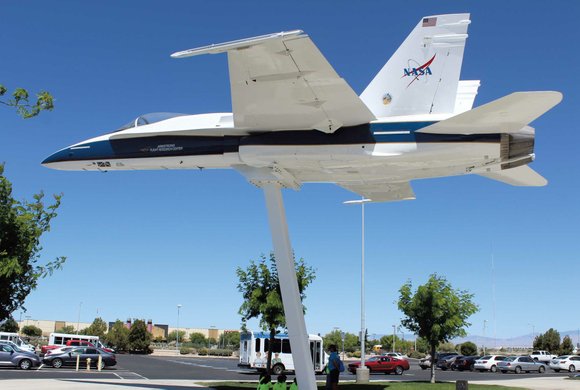 The city of Lancaster and NASA Armstrong this week unveiled the recently refurbished F/A-18 Hornet display located in front of the Lancaster Municipal Stadium, home of the Lancaster JetHawks. The F/A-18 Hornet was taken down from its mounting last December and transported to NASA Armstrong's Bldg. 703 in Palmdale for restoration.
"We are thrilled to welcome back this phenomenal tribute to our valley's rich aerospace history," said Lancaster Mayor R. Rex Parris. "This beautifully restored F/A-18 Hornet display serves as an icon in our community, welcoming the tens of thousands of fans who visit Lancaster Municipal Stadium each year."
The F/A-18, which is perched atop a 28-foot-high pedestal, is on loan from NASA's Armstrong Flight Research Center at Edwards Air Force Base. As the 11th pre-production F/A-18, the single-seat "A" model jet was at the end of its flying life and had been retired when it was installed in front of the Stadium in March of 1997. NASA Armstrong had obtained the developmental aircraft in 1987 to use as a mission-support or "chase" aircraft, meaning it was used by the center's pilots, engineers and photographers to observe other research crafts in flight and shoot video and photographs of test flights. It was also used for pilot proficiency and other mission support roles.
The jet was removed in order to provide greater attention to detail during the renovation process. New paint, refreshened decals and other restorative measures will help ensure the longevity and safety of the display for many years to come.
"The city of Lancaster is honored to showcase such an important piece of American Aerospace history," said Parris. "We look forward to sharing this great icon with JetHawks fans and Stadium visitors for many years to come."
For more information about Lancaster Municipal Stadium, call the parks, recreation and arts department at (661) 723-6077. For more information about the Lancaster JetHawks, please visit www.jethawks.com.