Fireworks on sale tomorrow in Palmdale; steep fines levied for illegal use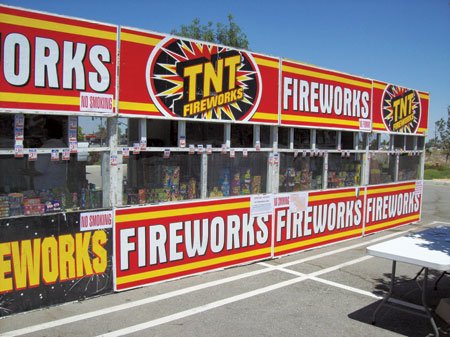 "Safe and Sane" fireworks will go on sale at noon tomorrow in Palmdale. These are the only fireworks that may be used legally by persons 18 years and over within Palmdale city limits. If they are purchased in Palmdale, they can be used only in Palmdale.
The Los Angeles County Fire Department has ordered that no fireworks—including "the Safe and Sane"—may be used in Fire Zone 4 which includes the Anaverde housing development, neighborhoods located on the south side of Rancho Vista Boulevard until it reaches Avenue N-8 and 60th Street West, and all areas south of the aqueduct. All of these areas are at high risk of fire.
The Palmdale City Council this week approved issuing permits for 44 not-for-profit organizations to sell fireworks; only such organizations headquartered in Palmdale (or have more than 50 percent of their membership residing in Palmdale) are eligible to sell fireworks. Each organization is allowed one booth and it must pass inspection by the fire department before the city's code enforcement office can issue a sales permit.
"We've developed an interactive map on our website, www.cityofpalmdale.org, that allows residents to enter their address so they can see if they live in a 'no fireworks zone' area where 'Safe and Sane' fireworks are not allowed," said John Mylnar, Palmdale communication's manager. "Residents may also contact our Community Preservation office at (661) 267-5234 or our Neighborhood Services Department at (661) 267-5181 and our staff will assist them."
City officials urge residents to not use illegal fireworks; persons who are caught disobeying the directive will be subject to fines beginning at $2,500. Educational flyers will be distributed at each authorized booth.
The Palmdale Neighborhood Services Department has issued vital safety tips for residents who purchase and use "Safe and Sane" fireworks:
• Read all directions and use "common sense";
• Have an adult present;
• Light one at a time, away from any obstructions, and move away quickly;
• Do not point fireworks at another person;
• Do not alter, augment or take apart fireworks;
• Keep fireworks (and matches) out of the hands of young children; and
• Always keep a bucket of water handy.
Officials recommend that you do not take your pet(s) to fireworks displays because the loud noises can scare them and cause them to runaway. Leave them at home in a sheltered, quiet area. Also, consult with your veterinarian before July 4 and ask for ways to help alleviate the fear and anxiety they may experience around loud noises. Even pets who normally would not leave the yard may escape and become lost; sometimes in the anxiety over loud noises, a typical dog if chained may wrench his/her neck or become entangled in an attempt to escape the noise.
"Make sure your pets are wearing identification tags so that if they do become lost, they can be returned promptly," said Community Safety Supervisor Kelly Long, who added that the fines for the illegal use of fireworks can reach as much as $10,000.