Hit the road with Major Motion recreational cycling
The club promotes a healthy lifestyle for people of all ages and cycling levels
By Jason Lewis | 6/26/2014, midnight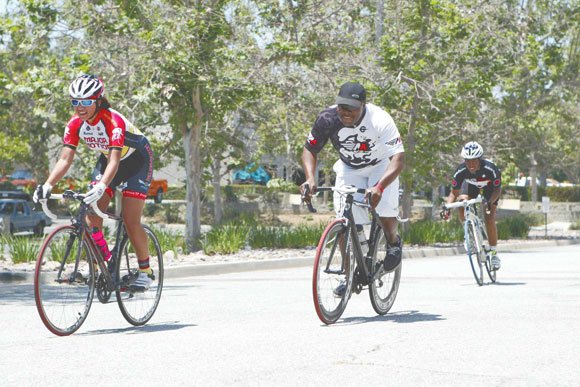 It is important to keep the body moving for overall good health, and that's exactly what Major Motion Cycling offers. From their recreation program for people of all ages, to their race team that pushes the limits of the sport, this club promotes a healthy lifestyle, while creating a social environment where people can have a great time.

The club was founded in 1975, and named after Marshall Major Taylor, an African American world champion cyclist in 1899. Back then, cycling was more popular than baseball and on par with boxing, so Taylor was one of the highest paid athletes in the world.

Over the years the club has had its ups and downs, but since 2009, when current president Kevin Evans took over, the club has grown from six members to more than 200.

This club is not just for elite riders. It is open to beginners as well as people who compete competitively.



For many people, they are reaping the health benefits of participating with this club. "The doctor told them that they better do something or you're going to die," Evans said. "Cycling helps people with diabetes. Some people were on medication, and now they're not. Same thing with high-blood pressure. They were on medicine; now they're not."
Evans has seen many people with weight issues drop the pounds quickly by getting on the bike for workouts. While many people run to stay in shape, it is not the best option for a lot of folks, especially as people start to get older. The pounding on the joints becomes an issue, but in cycling, it is impact free. Many people with knee and ankle issues cannot run, but cycling works great for them.

"Cycling is a whole lot easier on the body than running," Evans said. "Everybody says to go out and run and you'll lose weight, and you'll get in shape. But cycling is a lot better for you in the long run. You have people in their 80s who are still riding, that cannot run at all." Many people join the club because cycling is just a part of their lifestyle, but it does not take an expert cyclist to participate in the club's activities.

"The average person can do this," Evans said. "You don't have to have any athletic abilities to do this. As long as you know how to ride a bike. We'll take care of you. We don't leave anybody behind. If you're slow, so what? We'll stay with you until you progress to become a better rider."
The club, which also has a youth group, meets for rides on various days of the weeks, at various locations. On Wednesday evenings they are at Anderson Park in Carson. They alternate locations on Saturdays between the Ladera Center and various locations in Carson. A typical ride is between 40-60 miles, which can scare off a lot of people, but when on a bike, it is manageable for entry level riders.

"A lot of people don't realize that they can do that without a problem," Evans said. "They've never done it, so they're intimidated. But it's easier than you think." The club has seen some of their members start off at the beginners level, quickly become acclimated to the recreational activity, and decide to take on cycling as a competitive sport by joining the club's racing team. The weekly runs are one challenge, but training for the racing team is on another level.
"Training, it's almost like a job," Evans said. ]"You can't just ride one day a week and expect to come out here to race. You won't succeed. You're setting yourself up for failure. Three days a week, maybe. You have to put the time in. It's not just riding around. It's intervals. Hill work, lots of speed work."

Whether a person wants to use this club as a way to improve their health, or to compete on the race team, they all end up at the same spot.

"Every other Saturday we go hangout at Buffalo Wild Wings," Evans said. "We eat, we drink, we talk trash. It's all about having fun. We have good people."
The social aspect of this club is as great as the health benefits that it provides. Club members hang out and have a great time while participating in an activity that improves their lives.

For more information about Major Motion Cycling, visit their website at http://www.majormotioncycling.com/