Black Greeks celebrate unity in Southern California
By Avery Jordan | 6/26/2014, midnight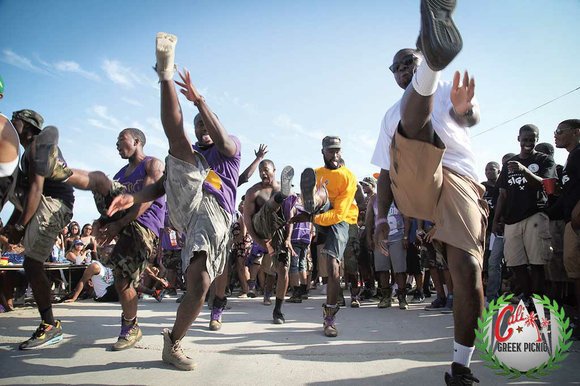 Members of the Divine Nine Black Greek fraternities and sororities recently gathered in Southern California to celebrate unity at The 2014 California Greek Picnic (CGP).
The events were orchestrated by the collective efforts of Delta Sigma Theta member Arlysha Blake and Phi Beta Sigma member Aaron Jones. "The purpose of the CGP," Blake stated, "was to provide a weekend of events and activities aimed at enhancing Greek unity and improve community awareness of Black Greeks. The event was directed at the Divine Nine, but was open to all other Greek organizations and non-Greeks."
The weekend started on Friday, June 20, at the Buggata Club on Melrose Avenue in Los Angeles with a mixer, allowing attendees to familiarize themselves with other California Greeks.
The Greek Picnic was held on Saturday at Will Rogers Beach on Pacific Coast Highway in the Palisades. The picnic featured a food truck, barbecue, a stroll-off competition, and an assortment of beach games. Though in its second year, there was a significant improvement in attendance this year as compared to the previous. "We didn't expect the turnout to be as large as it was, but I'm really glad and thankful we got so much support from all of the organizations, and everyone had a great time," said Blake.
Members from all the Black fraternities (Alpha Phi Alpha, Kappa Alpha Psi, Omega Psi Phi, Phi Beta Sigma, and Iota Phi Theta) and sororities (Alpha Kappa Alpha, Delta Sigma Theta, Zeta Phi Beta, and Sigma Gamma Rho) came out in full force representing their organizations.
To conclude the weekend's events, attendees held a brunch at Roscoe's Chicken and Waffles on Pico Boulevard in Los Angeles, and later participated in the WOW Jam community service event at Pasadena City Hall. The event was a collective effort of different organizations, churches, and volunteers who provided free food, games and music, haircuts, bike repairs, and bags of groceries to the community.
"We were definitely pleased with the CGP this year and we are looking to build off of what we accomplished," said Blake.