'Thursday Night on the Square' line-up announced in Palmdale
Numerous events scheduled for the summer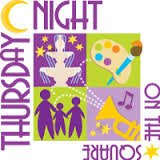 Palmdale officials announced the themes and musical performers who will be part of this year's Thursday Night on the Square (TNOTS) events that will be held on eight Thursday nights beginning June 26.
TNOTS events run from 5:30-8:30 p.m. in Poncitlán Square (9th St. East between Ave. Q-9 & Ave. Q-10) on June 26, July 3, 10, 17, 24, and 31, and Aug. 7 and 14. Families will enjoy live music, food, free activities for kids, and an open-air market featuring specialty items.
New for 2014 will be the addition of the Holland Ranch, a local organic farm that will offer certified organic heirloom varieties of vegetables and fruits.
The city will also introduce ARTown FUSION to TNOTS, a special artist showcase that will be held July 10 and Aug. 7 at Legacy Commons for Active Seniors. ARTown FUSION will provide a unique opportunity for artists of all ages and abilities to display their work and network with other local artists and the public.
"Having Holland Ranch and its organic offerings and a community art show will be great new additions to all the fun we have planned for TNOTS this summer," said Recreation Supervisor Annie Pagliaro. "It just reinforces how TNOTS is a true community celebration of summer. People of all ages, interests and walks of life gather with friends and family to enjoy the beautiful weather, music, fun, food and camaraderie."
The schedule of events is as follows:
June 26 | Charms of Enchantment
Step back into medieval days of old by creating a mystical potion necklace, a hypnotizing marble gem ring, and a spell book for crafting magical mischief. Stop by Camp TNOTS and try your hand at some Rockin' Art.
Music: R&B by Bump City.
July 3 | Ol' Fashioned Fun
Celebrate our country's birthday with retro toys: Stamp a colorful marble bag and fill it with marbles, make a Catch-It Cone, and a patriotic pinwheel. New for 2014: Washi World at Camp TNOTS.
Music: Country by Jacob Nelson & The Tone Wranglers.
July 10 | Art Attack (and Pawcasso Pooch Parade)
Use shaving cream and paint to create a cool picture frame, a crayon candle, and a glass tile mosaic. Artfully dress a furry friend and join the Pawcasso Pooch Parade (prizes awarded). Explore Washi World. Stroll to Legacy Commons for the all new ARTown Fusion Exhibit.
Music: Swing by Phat Cat Swinger.
July 17 | All Fired Up
Don't miss this explosive night! Sculpt a clay volcano and take home a recipe to make it erupt; craft a firework sparkler that never burns out, and a turn a "dangerous" stick of dynamite into a piggy bank. Paint some Rockin' Art.
Music: R&B by The Ambassadors of Soul.
July 24 | Truffalooza
Kids will love paying tribute to The Lorax™ when they craft a fuzzy dress-up mustache, a fluffy Truffula Tree, and a Barbaloot Bear. Discover what's new at Washi World.
Music: R&B by Lorena Mackey & The Hi-Lites.
July 31 | Totally Turtles … Dude