Making sweet sounds of music
Local programs nurture next generation of musicians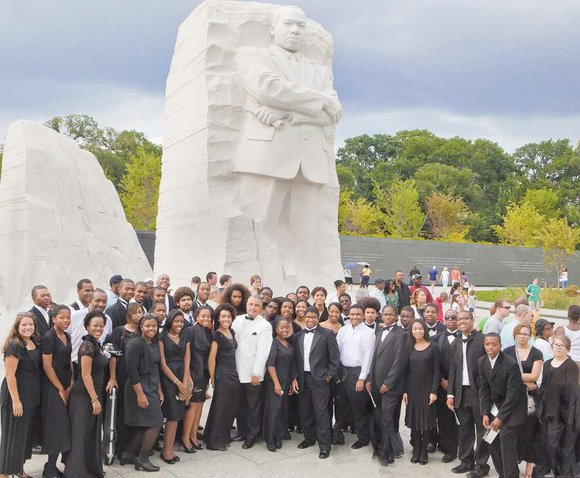 There are a number of other programs like Mitchell's that are developing the next generation of Black musicians.
• Watts-Willowbrook Music Conservatory. The mission of the conservatory is to transform the lives and minds of young people in the Watts-Willowbrook area of Los Angeles through high-quality music education. The conservatory concept was inspired by "El Sistema," the world-famous Venezuelan music outreach and education program.
Taking their efforts one step further, SAPPA joined forces with the Inner City Youth Orchestra of Los Angeles, the Harmony Project, and the Watts-Willowbrook Boys and Girls Club to create the conservatory and the Watts-Willowbrook Youth Symphony in 2010.
Participants spend two hours a week learning to read music and play symphonic instruments. The symphony includes students from schools throughout Los Angeles, including Samuel Gompers, Willowbrook, Markham, Southeast and Bret Harte middle schools; as well as 99th Street, Carver, McNaire Figueroa Street, Barrett, Laurel Street, St. Vincent, and Amestoy elementary schools along with Vanguard Learning Center and the Barack Obama Charter School.
• Eubanks Conservatory of Music and Arts was founded in 1951 by Rachel Eubanks as a one-room school on Figueroa and 47th streets, and since 2010 has been headed by president and CEO Louis Lee II. The program currently works in Compton unified and offers youth ages 10-14 a multi-pronged approach that combines learning the culture of music and the arts—music (all genres), drama, ballet, acting, Hip Hop dancing, drawing/art/painting, modern dance and DJ turn table technique—with proactive counseling designed to combat gang violence, teen pregnancy and other social ills. Participants also perform in a end-of-session recital. The free, three-hour after school program also feeds the youngsters a nutritious meal. For info, call (310) 462-5346.
• Musicians in Action, created by Jacque and Gerald Malone is a 22-year-old organization that began predominately as a way for faith-based musicians to network and support one another, but over the years has incorporated a number of training programs for youth.
The first is a drum clinic held every year that gives children as young as age 4, regardless of skill level, a chance for mentoring with music professionals. Each year, the group also hosts a performance called "Gospel Plays Classical," which gives the many faith-based musicians with classical training a chance to show the range of their skills. Talented youth are also showcased at this event. This years performance will take place Aug. 16.
• SESA Conservatory of Music is a Saturday morning instrumental music program founded in 1995 and sponsored by the Southeast Symphony Association. Youth in grades three to 12 learn instrumental music, theory and composition at all levels. Tuition is $155 per semester, however scholarships are available for those who need them. Scholarships are also awarded on the basis of achievement. For info: (310) 673-SESA (7372).
• Just Lovin' Music Studio is an 18-year-old Inglewood-based organization that has created the Recorder Fusion Youth Ensemble and Music Conservatory. Working through the school districts, particularly Inglewood and Los Angeles unified, the program teaches youngsters in grades two to eight how to play and master the recorder, understand theory, and read and write music. At the end of the program, participants perform in a recital. Through fundraising, coordinators are also able to secure enough money each year to give every student an ensemble-quality recorder to keep as their own.
• Inner City Youth Orchestra of Los Angeles, started in 2009 and directed by founder Charles Dickerson III, prepares students for advanced study and gives middle, high school and college students (ages 10-25) an opportunity to perform around the region and nation. The group will present its sixth annual concert July 6 at 3 p.m. at Walt Disney Concert Hall, 111 S. Grand Ave. For information on tickets, contact Wade Events at (310) 674-6700 or e-mail: icyolaevents@gmail.com.
• Compton Conservatory of Music provides instruction in music to Compton-area students in grades three through 12 who have an interest or talent in playing an instrument. Instruction is offered in a group setting on almost any instrument and students play in an end-of-session concert.
Classes are held most Saturdays and the program is located on the campus of Compton High School. It accepts children at beginning, intermediate and advanced levels. For information and applications, contact Fred Easter at (310) 704-6635.