Making sweet sounds of music
Local programs nurture next generation of musicians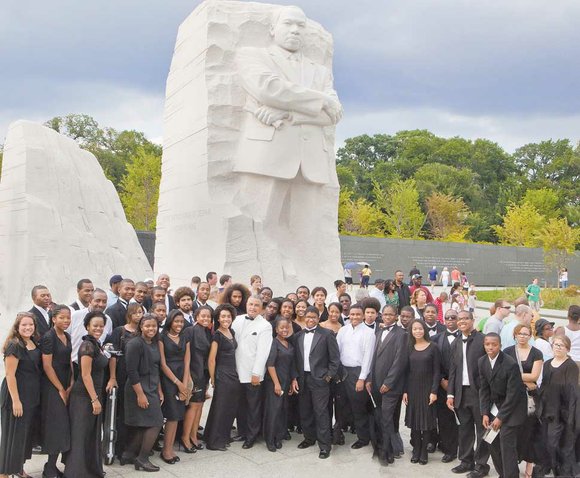 When Hannah Innis was in second grade her parents, Rodney and Karen, asked her public school if she could join the orchestra. To their disappointment, they found out that the earliest their talented cellist could be part of the orchestra was third grade.
This experience reminded the Los Angeles couple that the public school music programs at their childrens' schools were not very aggressive.
So to give Hannah, 10, and her sister violinist Karah, 13, the challenge the two needed, mom and dad enrolled them in an outside music program that last year took the siblings, and a group of children in grades five to 12, to New York to play at Carnegie Hall.
Now as they look down the road, the Innis' say Karah—who has heard classical music since she was in her mother's womb, and at age 5 had perfect pitch—definitely sees herself as a professional musician in the future.
Saxophonist Daniel Richardson is another young local musician who is beginning to make his mark on the L.A. music scene. At 26, he has logged more than a decade and a half of playing music and his resume includes graduating from the Los Angeles High School for the Arts; winning a Spotlight Award as part of The Music Center's annual scholarship competition honoring the top high school visual and performing artists throughout Southern California; founding his own group, Wilberta, featuring six members playing an eclectic mixture of Jazz, Rock, Indie Rock, R&B, Hip Hop and more; working with the NAACP Afro-Academic, Cultural, Technological and Scientific Olympics (ACT-SO); and working with the National Association of Negro Musicians.
(Applications for the 2015 Spotlight Awards will be available Aug. 1 at http://www.musiccenter.org/education/Students-at-the-Center/Spotlight/).
Richardson was introduced to music as a youngster thanks to his Fisher Price Bubble Sax but credits Jazz pianist Billy Mitchell with helping him refine his performance skills.
"When I first met him, he definitely gave me advice such as how to play to the audience," remembers Richardson about his first encounter with Mitchell who was judging at an ACT-SO competition.
Mitchell is among a group of dedicated professionals locally helping to mold the next generation of young Black musicians. He is doing this through his organization Scholarship Audition Performance Preparatory Academy (SAPPA).
"Initially I put together SAPPA as a program to help mentor and train African American kids to audition and interview (for competitions)," explained Mitchell, a self-taught artist who was judging various competitions and noticed that not many African American youth were showing up. "Many of those who did participate did not possess the self-confidence and understanding needed to score well."
Mitchell founded SAPPA in 2002 to address that shortfall, and since its creation, the group has morphed it into a full training program that includes lessons and performance opportunities. He works in conjunction with the Watts-Willowbrook Boys and Girls Club and other organizations to identify and train talented youngsters. For info, visit www.sappa.net or contact the Boys and Girls Club at 39 E. 120th St. (323) 567-3957.