Jordan Downs residents want tests of 'toxic' soil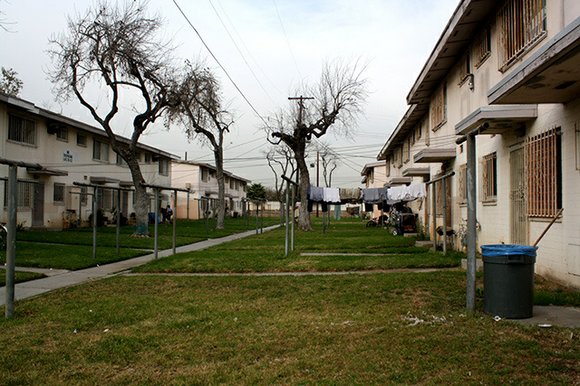 Before the Housing Authority of the city of Los Angeles can begin its long overdue revitalization of the Jordan Downs housing project in Watts, it must tackle perhaps one of the most polluted and blighted parcels of land in the entire city.
An application has been submitted to test the contaminated soil at an abandoned steel mill and truck repair facility —adjacent to the housing development—which for decades was laced with lead, arsenic, mercury, chromium, petroleum by-products and other carcinogens left over from the manufacturing days of the old Alameda Industrial Corridor. It's a rusting, rodent-ridden 21-acre eyesore not far from Jordan High School and known to locals as "the factory."

The housing authority wants to remove and replace thousands of truckloads of contaminated soil there. The 2,500 residents who live near the site are concerned that the contaminants have naturally seeped into the grounds of the housing project and are calling on the housing authority to extend its soil testing into the housing development. The housing authority has not planned to test the residential soil.
"It's about time," Thelmy Perez, an organizer with the L.A. Human Right to Housing Collective, told the Los Angeles Times this week. "The community has been asking for this since last August and those calls had been ignored." At that time, residents were informed that Jordan Downs would be undergoing extensive remodeling, but that plan was put on hold in March when city officials learned that they would not be awarded a $30-million federal grant to help pay for the project.
Much of the soil along Alameda Street is likely contaminated from the old steel mills, foundries and manufacturing plants that arose shortly before and during World War II. Soil contaminated with carcinogens is a big concern among parents whose children typically play in the dirt, breath in the poisons and often transfer these deadly chemicals by footprint back into their apartments. This can result in health problems including cancer, lung disease and permanent learning deficiencies because of the way these toxins can affect the brain.
Larry Goins, senior director of real estate development for the housing authority, said this week he saw no "scientific" or "health reasons" to survey and test the Jordan Downs soil. "The reason we didn't do it before is, we don't want to scare our residents. We don't expect to find anything," he said.
The disputed area is among the initial clean-up efforts in the first phase of the plan to expand and gentrify the World War II-era housing project into a mixed-income, "urban village" of up to 1,800 new dwellings.