Base Knock is regenerating enthusiasm in youth baseball
Jason Lewis | 6/19/2014, midnight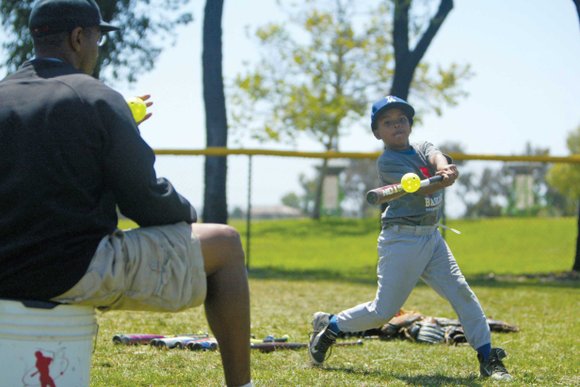 It has been well documented that the amount of African American Major League Baseball players has diminished significantly over the past few decades. Most of the best Black athletes are choosing to play football and basketball at a young age, and they are not developing the skills needed to play baseball on a highly competitive level. Charles Bearden, co-founder of the Base Knock Youth Foundation, has a simple explanation.
"When we were younger our parents played the game, and understood the game of baseball," Bearden said. "We're now trying to attract kids whose parents don't really know much about the game, so they push their kids in a different direction. Most of the people in our community think they know basketball. They understand the rules and the stats. And the same with football, so they tend to push their kids in that direction."
Through daily summer camps the Base Knock Youth Foundation is teaching kids the fundamentals of the game.
Bearden points out that it is tough to pick up the game later in childhood because there is so much skill involved. Starting between 5-8 years old is ideal.
"Baseball is not an athletic sport, it's a skill sport," said co-founder Pete Dobson said. "If you happen to be athletic, with the skill, boom!"

Dobson points out that NFL greats Bo Jackson and Deion Sanders had great athletic abilities, but because they had the skills to play baseball, they were also able to go far in the sport.
Bearden and Dobson created Base Knock five years ago because there were not many programs outside of park leagues for children to learn how to play. For the children that did play, after the season ends in June, most of them would go and play summer basketball, or join their football teams. Base Knock keeps the children interested in the sport after their baseball season is over.

"What we noticed was that those kids were a little more fundamentally ready to play the game than a lot of other kids who did not participate in any program, or just did a spring league and then moved on to football or basketball," Bearden said.

Two players on Dorsey High School's City Championship team came out of the Base Knock program. Dobson and Bearden coach Dorsey's team, and in the coming year they will see more players from their program make it to the high school level.

"In three years we were 34-2 in league play," Dobson said about Dorsey. "We were three-time league champions. The kids can play, and this community still has baseball players. We just have to get them out there."
This was Dorsey's first championship since 1958, and their first time making it to the title game since 1972.
Base Knock holds their daily camp at Ladera Little League Fields. Drop off begins at 8:15 a.m. with training from 9 a.m. to 4 p.m. The camp is $100 per week, and every Friday there is a field trip.

For more information about Base Knock, call (323) 300-8463 or visit www.baseknockbaseball.org.