Former Dodgers pitcher Bob Welch dies at 57
Funeral services pending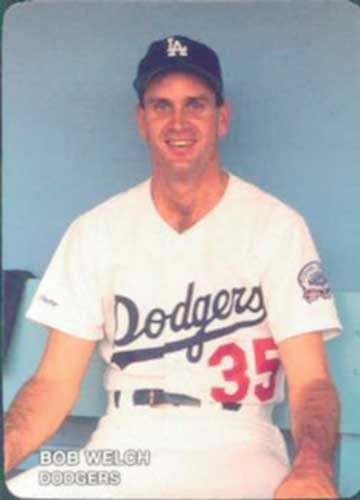 Funeral services are pending for former Los Angeles Dodger and Cy Young Award-winning pitcher Bob Welch, the last Major League pitcher to win at least 25 games in a season.
Welch, 57, died Monday night at his home in Seal Beach, according to the Oakland A's, where Welch played for seven years following his decade with the Dodgers. A cause of death was not immediately known.
Welch had a 211-146 record during his 17 years in the league. He is perhaps best remembered by Dodger fans for striking out Reggie Jackson in the ninth inning to save Game 2 of the 1978 World Series—at the age of 21.
Welch pitched for the Dodgers from 1978-87 before moving on to the Oakland A's. He was on the Oakland team that swept the San Francisco Giants to win the 1989 World Series, which was famously interrupted by an earthquake.
"We are deeply saddened by the sudden passing of Bob Welch," A's President Michael Crowley said. "He was a legendary pitcher who enjoyed many of his best seasons with the Oakland A's. He will always be a significant part of our franchise's history, and we mourn his loss."
Welch was the pitching coach for the Arizona Diamondbacks when the team won the 2001 World Series, and in recent years he served as a special instructor for the A's, working with minor-leaguers. His son, Riley, was chosen by the A's in the 34th round of the 2008 MLB First-Year Players Draft.
Welch is survived by his sons, Dylan and Riley; daughter Kelly; and ex-wife Mary Ellen.