Summer youth activities planned in Antelope Valley
Outrun the "zombies" tomorrow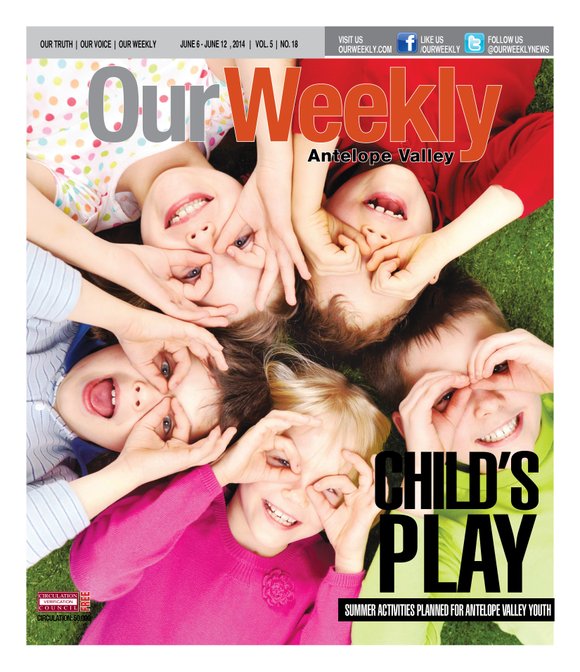 Although school will end soon for the summer break, a variety of youth activities will be scheduled over the next three months throughout the Antelope Valley that are designed for physical fitness, academic enrichment, community involvement and just plain fun.
The following programs taking place locally through September can greatly assist young people in their academic and social maturation, as well as promoting fellowship physical activity.
—First up, tomorrow is the Zombie Run at 9 a.m. at Domenic Massari Park, 37716 55th St. in Palmdale. Hosted by the Youth Support Association (YSA), the Zombie Run is a fun-filled race that entails each runner receiving three "life ribbons" to attach to their race bib. Runners who cross the finish line with all three ribbons will be entered into a drawing for a top prize. Those participants who cross the finish line with less than three ribbons will be entered into a drawing for a lower prize. "Zombies" will be ever-present throughout the course to chase down runners and take a ribbon.
Water and snacks will be available to all participants; register online at www.avysa.org or call (661) 949-6615.
Just after the race, the inaugural Teen SummerScape will take place from noon to 4 p.m. The event will feature a fun zone, food vendors, booths by community groups and resources for teens. Admission is free. Teen SummerScape is sponsored and partly funded by the Warnack Foundation which donated $13,000 for the event.
"We're excited to present this brand new event for teens to promote and provide healthy living and outdoor activities, while providing them with access to helpful resources available," said Becky Bartlett, city of Palmdale recreation coordinator. Palmdale Mayor Jim Ledford remarked about the pre-summer youth activity: "Our heartfelt thanks go out to the Warnack Foundation as they continue to provide programs, activities and events for all our residents." For more details about Teen SummerScape, call (661) 267-5611 or visit www.cityofpalmdale.org.
—Parents of middle school students may want to take their pre-teens and "tweens" to the "Why Shouldn't I Be Sexually Active" seminar tomorrow from 2 to 4 p.m. at the Los Angeles County Fire Department Training Center, 42110 6th Street West (West Avenue M and 6th Sixth Street).
With an eye on preventing teenage pregnancy, the program will last about two hours and will cover the following topics: encouragement of the parental/teen discussion of sex, delaying sexual activity, a dialogue on sexual decision making, and a discussion of safe sex practices. Pizza, salad and refreshments will be served and door prizes awarded. Sponsors include El Nido Family Services, Children's Bureau Partnership for Families, Grace Resources and the Antelope Valley Youth Support Association. For reservations or more information, call the Antelope Valley Youth Support Association at (661) 949-6615 or visit www.avysa.org.
—The Boys and Girls Clubs of the Antelope Valley will conduct its Summer Brain Gain series through June 8 in Palmdale and through June 16 in Lancaster. The program is designed to keep secondary school students on track for graduation, focusing primarily on narrowing the "achievement gap" among low-income students. With assistance from the Disney Corporation, Staples Corporation as well as co-sponsorship from local Olive Garden restaurants, Michael's craft stores and Antelope Valley Ford, officials offer the program as a way to counter the loss of two months of academics during the summer break.