Choir takes universal view of Hip Hop
Includes members from ages 6 to 65
By Avery Jordan OW Contributor | 6/5/2014, midnight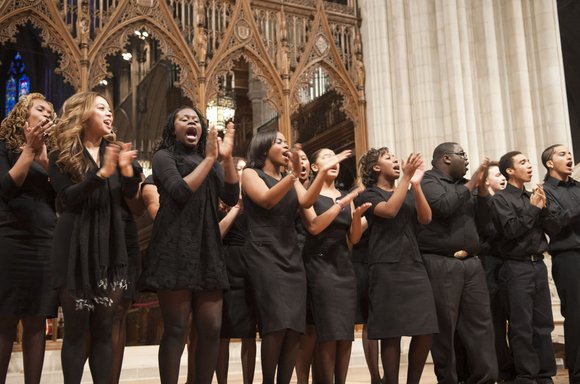 When people think of choirs, they usually associate them with church or some type of classical performing group.
But a new choir is in the works in Los Angeles that is sure to change the way people see, not only choirs, but the entire world of Hip Hop. Visionary producers Marcus Bell and Haskel Jackson Jr. have collaborated to create a revolutionary musical group known as the Hip Hop Choir.
Both Bell and Jackson grew up in the era of the rise of Hip Hop; however, each was introduced to the music in a different way. Jackson grew up as a fan of the genre, whereas Bell did not fully immerse himself in the music until after college.
Instead, Bell started out as a Jazz musician and transitioned to producing Hip Hop after college. He then evolved into an accomplished producer on an international scale producing hits in countries such as Lebanon, Turkey, Japan, Korea, India, as well as other nations that have embraced the culture of Hip Hop. He has also worked with famous American rappers such as the late Biggie Smalls and legendary Jam Master Jay (whom he looked up to as a mentor in Hip Hop production).
Bell and Jackson have developed a deeper understanding of Hip Hop, and over time have become much more analytical about how they approach the music. They treat it as a living, breathing thing that can touch people on "emotional and vibrational" levels.
The Hip Hop Choir is designed to focus on five core elements of Hip Hop: B-boying, graffiti, DJing, MCing, and most importantly, understanding the history of the music. The first four elements seem to be the most popular among people immersed in pop culture. Jackson believes people are so wrapped up in the style, the clothes, and the beats that they often forget—or don't care—about the knowledge component of Hip Hop. He further explained that it is essential that people understand the origins of the music.
"Hip Hop is a form of expression of what is happening in the world," Jackson explained. "In each region of the U.S. that has embraced Hip Hop, [people] were expressing what they were seeing in their 'hood.' They were communicating and articulating what was happening and what they were seeing around them."
It is through this method of expression that Bell and Jackson hope to convey positive messages to their community instead of the negative ones that seem to stigmatize the genre.
After traveling the world and experiencing the almost overwhelming influence Hip Hop has had on an international scale, Bell realized there could be a way to use it as a vessel to carry messages of positivity to the world. He saw how the music touched people of all ages and ethnicities, influenced their thinking and emotions, and resonated with them on so many different levels.
Many people in the Black community believe that Hip Hop music belongs to them and that everyone else is trying to take it away and claim it for their own.