Urban teens set to pitch their tech companies
Demo day to be held at USC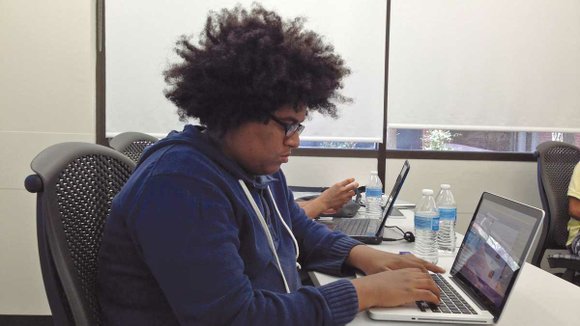 URBAN Teens eXploring Technology (TxT) will cap off its 15-week summer program with a free demostrationscheduled Aug 2. from 10 a.m.-3 p.m. at USC in Salvatori Computer Science Center Room 101, at 941 Bloom Walk, Los Angeles.
The TxT'ers will show their stuff as they pitch the web- and mobile-based products created this summer along with their visions for solving specific issues in their communities, to a panel of esteemed judges and an audience of political leaders, tech entrepreneurs, and community members.
The teams, which consist of youth from 12-17 years old, are vying for more than $10,000 in prizes. The winning team will also receive seed money to launch a business as well as mentoring from a Silicon Valley entrepreneur.
In previous years, teams created an application that helps with SAT vocabulary, as well as SouthLA Runs that offers residents information on the best and safest running routes for all levels of runners.

This year teams are working on a photo-sharing app, a program that reminds people of items left at home as well as an app that coaches can use to diagram plays on iPads and tablets.
"The kids of South Central Los Angeles have amazing tech talent. We know that if we give them the resources necessary to succeed, they will in return change their communities and the world through technology. We hope that this teen tech startup (event) inspires teens all over the nation to think about being a social entrepreneur at a young age," said Oscar Menjivar, CEO and founder of URBAN TxT.
URBAN TxT is an organization that encourages inner-city teen males to become catalysts of change in their communities. The focus is to develop teens from South Los Angeles and Watts into a new generation of community and technology leaders. The group believes that access to technology should be available to everyone, especially low socio-economic communities. Through their curriculum they develop a culture of innovation, collaboration, and strong academics among young men.
Every year through a Summer Coding Academy, the program takes 40 potentially at-risk, but highly talented, teenage boys of color from South Los Angeles and Watts and turns them in to technology entrepreneurs by equipping Black and Latino teenage boys with skills in coding and programming languages, business development, pitching and other talents required to create a startup company.
State Superintendent of Public Instruction Tom Torlakson is the confirmed guest speaker. For additional information, visit the website: www.urbantxt.com.