Local cyclist closing in on 100,000 documented miles
Health benefits and scenic rides highlight his experience
By Jason Lewis | 7/31/2014, midnight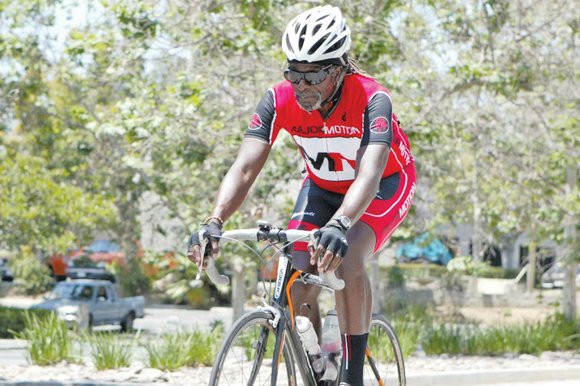 Grimble is a pretty smart guy. The Jefferson High School graduate has multiple degrees from his studies at Cal Poly Pomona, Pepperdine, and Cal State Los Angeles.

Besides the health benefits, Grimble has seen some of the most scenic sights on the west coast. While most people exercise locally, typically indoors, he has seen nearly every stretch of Highway 1, and he has ridden as high as 10,000 feet above sea level, biking to Mt. Baldy, Mt. Whitney, and the Santa Monica Mountains.

A couple other favorites of his is riding through Topanga Canyon and the back side of Palos Verdes. He has ridden through most of the mountain ranges and canyons in Southern California, and has made the trip down to San Diego and back 22 times. That is 127 miles each way.

His most memorable ride was from Oregon to San Francisco.

"When I did that ride, we went through the redwoods," Grimble said. "The land of the giants. It was just a humbling experience to go through those trees on your bike. It had the feeling of riding through a giant cathedral. It's just epic."
Grimble is participating in a sport that he will be able to do well into old age, but he certainly is not old yet.