Local cyclist closing in on 100,000 documented miles
Health benefits and scenic rides highlight his experience
By Jason Lewis | 7/31/2014, midnight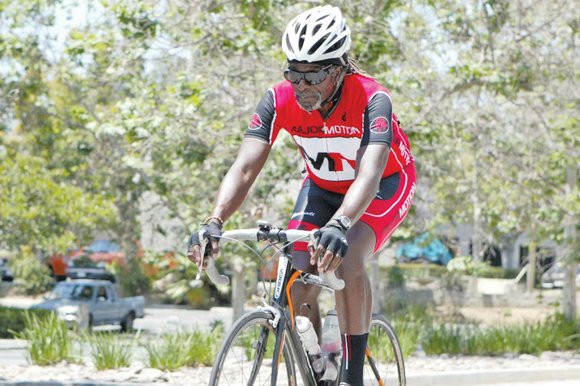 Ten years ago Los Angeles resident John "Khamadi" Grimble came up with a plan. He was recovering from an accident where he was hit by a car and a steel plate had to be inserted into his knee, so he had been physically inactive for a while.

This did not sit well with Grimble, as he had been cycling for years. He was also a runner, and at one point he would compete in 10k runs on a weekly basis. He also ran a number of marathons.
"I said that once I got back in condition, I wasn't going to stop being active and riding my bike," Grimble said.
That meant that he needed a goal, and a big one at that. He decided that he was going to ride his bike a documented 100,000 miles.

If Grimble was a young guy—as grueling of a task as it sounds—it would be doable. But when he set out to accomplish the feat, he was 53-years old. The most miles that he had completed in a single year was about 10,000, so he knew that this challenge was going to take some time.

Ten years later, Grimble has completed more than 85,000 miles, riding about four days a week. This year alone he has put in about 7,200 miles of road work. He believes that he will reach his goal sometime next year, and he has greatly benefited from this healthy activity.
"I'm proud to say that I don't look 63, I don't ride like I'm 63," Grimble said. "I shock a lot of people just about everyday when I tell them."
Grimble intends to stay active well into old age, so he is putting in the work now.
"It pays off," Grimble said. "I know for sure, as we age, when you're active in your 50s, that will prepare you to be an active 70-year old, and an active 80-year old. I'm looking forward to being in that category."
Grimble rides with three different groups. Major Motion Cycling, Dock Riders, and Cow Bells.
"Cycling is something that you can do as you get older," Grimble said. "It's a sport where the conditioning factor is incredible. Especially at the level that I do it. I enjoyed running. It was very satisfying at the time. And I'm including the thousands of hours of playing pick-up basketball games over the years. But running will take a toll, especially on hard surfaces. It's a high impact activity. Where as cycling, you don't have that pounding. But the cardiovascular rewards are just incredible. And those who want to lose weight, that will occur also."
Proper nutrition is also a part of Grimble's program, subscribing to a vegan diet, he has not eaten meat or dairy products in years.

"I don't care if you have three Ph.D's, if you're not taking care of your body, you're not a very intelligent person," Grimble said.