Palmdale, Lancaster reach out to find homes for shelter pets
'Four-footed friends' can make good companions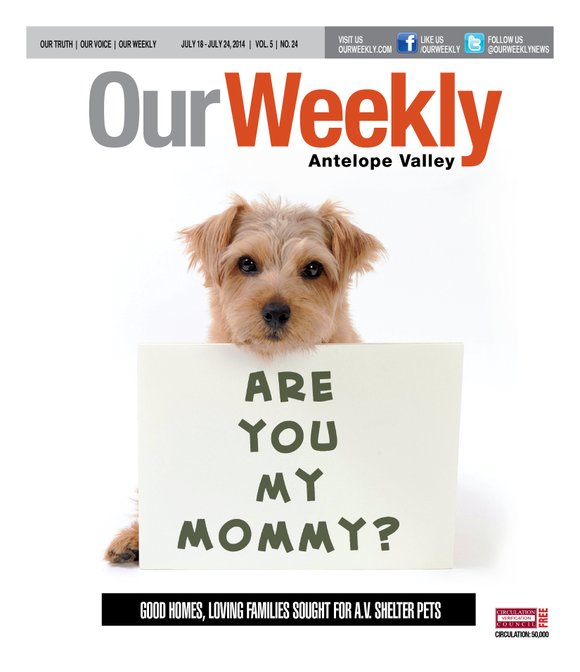 Pets may be the great equalizer of mankind. It seems no matter where you live nor what culture or station in life, people naturally gravitate toward a loving companion. Sometimes they'll have four legs, other times two wings or maybe they live in water. Throughout all social strata, race and ethnicity, most everyone loves to care for a pet and the majority of people will go to great lengths to ensure their animal's comfort and well being.
We've witnessed in the media during the past decade fervent pleas to adopt a shelter pet. These abandoned kitties and tabbies, mutts and pugs are at the center of a current nationwide campaign by many animal-care organizations to who want to secure for them a permanent, loving home.
The Palmdale City Library recently partnered with Halfway to Home Dog Rescue to host a pet adoption event. The city of Lancaster will do its part in October to raise awareness of shelter pets—and pet care in general—with its annual Bark at the Park showcase at Lancaster City Park. Despite the busy lifestyle of today's "multi-tasking" world, officials in both cities want more people to consider adopting and caring for a four-legged friend.
Halfway to Home Dog Rescue is a not-for-profit group that has saved more than 3,000 animals. Operated in conjunction with PetSmart store in Palmdale, their mission is to rescue, provide needed shots and medical attention and offer a safe and temporary home to dogs and cats who need what they call a "Forever Home." Halfway to Home also provides spay and neuter services while promoting responsible pet ownership through its policies and education process. This, in turn, encourages pet owners to know the best practices for keeping animals content. The two-day Bark at the Park event this fall in Lancaster will bring together families and their pets for treats and fun—including performances by the American Diving Dogs, and a group of delightful pooches with a penchant for catching Frisbees. The event will serve as a collection point for blankets, food, pet toys and other essentials for donation to the Los Angeles County Animal Shelter in Lancaster.
Animal shelters have a large selection of animals looking for new homes. These animals may include dogs, cats, birds and even horses and livestock. You may not have to spend hundreds of dollars to acquire a pet. Shelters have a variety of young and middle-aged animals available who have had their vaccinations, have been fed and boarded well and the majority are in excellent physical and mental condition. The Humane Society of the United States (HSUS) estimates that anywhere from 6-8 million pets end up in shelters each year, but only half will get adopted. About one-fourth of these pets are purebreds.
Shelter pets are a bargain
Most pets end up homeless through no fault of their own. "Moving" and "landlord" issues are generally the top reasons people abandon their pets, meaning that shelters and rescue centers are full of family-ready friends. These pets typically cost less than pets purchased—or even acquired as a gift—when you consider the cost of vaccinations, spay/neuter surgery, microchips, de-worming and other "extras" included in the adoption fee.