Woman in freeway beating files civil rights lawsuit against CHP
Pinnock still hospitalized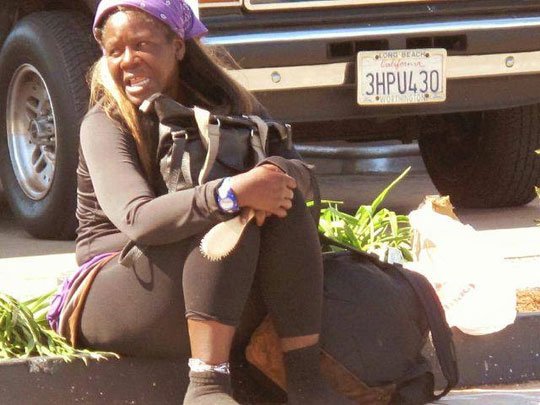 Attorneys for a homeless woman seen on video being punched by a California Highway Patrol officer along the Santa Monica (10) Freeway filed a civil rights lawsuit last week, alleging Marlene Pinnock was the victim of an unprovoked attack and a cover-up that was "tantamount to attempted murder.''
The suit, filed in Los Angeles federal court, alleges the CHP officer, whose name is being withheld, beat her for no reason after she walked away from him and was later made out to be the aggressor in a falsified report. The lawsuit also claims excessive force, assault, battery and a violation of Pinnock's due process rights. It states that Pinnock "suffered great mental and physical pain, anguish, fright, nervousness, anxiety, grief, shock, humiliation, indignity, and embarrassment" and seeks monetary damages to be determined at trial.
A CHP spokesman said no one was immediately available to respond to the lawsuit.
Pinnock, who remains hospitalized and is still receiving treatment, asserts she was a victim of about 15 'unprovoked vicious blows from the officer who was straddling her and made no attempt to arrest her during the attack.'' Pinnock contends the officer's "clear intent was to beat her with such force that could have resulted in her death and is tantamount to attempted murder.''
According to the lawsuit, cell phone video shows part of Pinnock's "dress being ripped off her person by the officer's blow, along with her dignity being ripped away as his straddling technique exposed her buttocks to passersby.''
The video, shot by a motorist on July 1, shows the officer atop Pinnock, delivering at least nine blows to the 51-year-old woman's head.
Pinnock initially was put on a 72-hour psychiatric hold—something available to law enforcement officers when a person appears to be a danger to themselves or others—and held involuntarily for a mental evaluation following her arrest. Attorneys and one of Pinnock's daughters claimed family members were unable to find Pinnock for five days after the beating, because she was signed in at a hospital under an alias.
Earlier this week, CHP investigators seized Pinnock's medical records and the clothing she was wearing during the incident. Her lawyers claim in the lawsuit that the CHP's actions were an effort to shift blame to Pinnock by "misusing the criminal justice system to obtain privileged and private information to discredit (Pinnock) ... or circumvent the discovery rules in civil rights violation matters."
One of Pinnock's lawyers, Caree Harper, called the judge who issued the warrants for her medical records "wrong." Harper said that if the CHP "had any integrity they would not retraumatize (Pinnock) by subjecting her to a trial."
Farrow couldn't confirm the search warrant Wednesday but told the Associated Press: "I don't think the CHP is trying to put her on trial or make it an issue about her. What I'm looking at is entirely about the circumstances, we all saw what happened. Our job is to find out the why and the how."
Several CHP officials, including Commissioner Joe Farrow—who is named in the lawsuit along with an officer identified as "JohnDoe"—have met with family members and activists since the arrest, but activists have complained that CHP officers were not forthcoming with information.
The arrest occurred along eastbound lanes of the 10 Freeway near the La Brea Avenue off-ramp. Pinnock was walking barefoot along the shoulder and occasionally in traffic lanes, according to the CHP. When she did not respond to orders to stop, the officer got out of his patrol car and confronted her. Officials say the woman became combative, prompting the officer to take her down. About the time the CHP officer stopped punching Pinnock, an off-duty law enforcement officer showed up and helped handcuff her. Pinnock, a mother of two who has fallen on hard times, apparently had been living under the freeway in the area for some time. According to published reports, she has been arrested more than a dozen times since 2008.
City News Service contributed to this story.