The Drew League is in full swing
Premier summer pro league at King Drew Medical Magnet High School
By Jason Lewis | 7/24/2014, midnight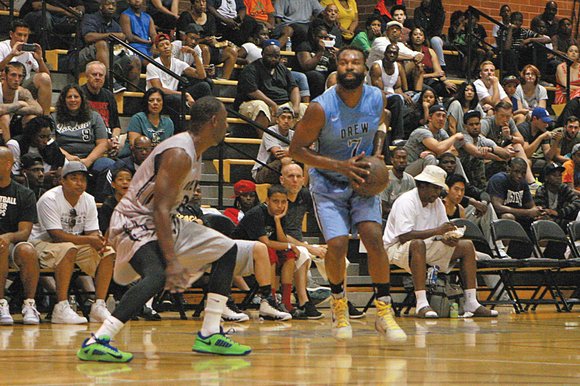 The Drew League has been around for 40 years, since Alvin Willis established the summer league at Drew Middle School on the corner of Firestone and Compton Ave. The goal of the league was to bring back some of the school's alumni for basketball games.

Years later, under the guidance of Dino Smiley, the Drew League has featured the likes of Kobe Bryant, LeBron James, Kevin Durant, and several other NBA All-Stars.
When Bryant showed up for a game, unannounced, he rocked the gym, as he and fellow NBA All-Star James Harden put on a show. Both players scored more than 40 points each, with Bryant sinking a buzzer beater to win the game.
Baron Davis is a fixture and has become the face of the Drew League.

These games, held every Saturday starting at 10 a.m., are free to the public. This is a great event for the community to attend, because the talent level is so good that several NBA and college scouts frequent the games. The best part of this league is that fans can see big time players right in their own community.

The Drew League also has a foundation which supports at-risk youth. They mentor local children, and they give scholarships to college students.
For more information about the Drew League, visit their website at www.drewleague.com.