Black sports agents advancing in professional athletics
They know 'how to make a millionaire'
By Merdies Hayes | 7/24/2014, midnight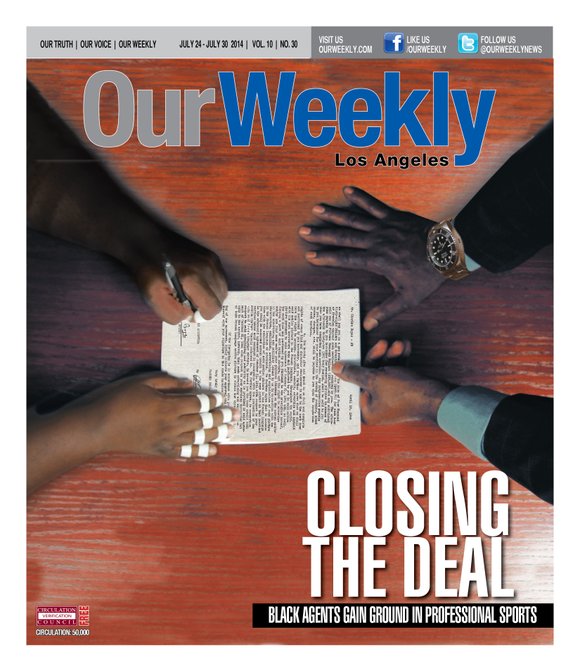 Most prospective agents are former amateur or professional athletes and usually begin their careers with consulting firms or amateur sports organizations to start building a small client base. Networking and successful self promotion are essential to move forward as a sports agent.
They also must pass specific certification for each different major sports league before they can represent someone. For example, if an agent has been certified to work with the National Football League but wants to represent a player in the National Hockey League, he/she must receive certification there as well. Practically all sports agents are certified and work with a specific league. You must pass a written examination to represent a player in the NFL; in baseball, an agent is required to represent at least one player on a major league roster to become certified. Other certification requirements include meeting player's union regulations and/or state-mandated employment guidelines. These requirements generally adhere to standards set forth by the U.S. Bureau of Labor Relations.
African American agents have, traditionally, been a rare commodity in the entertainment industry, which has been where many sport agents originated. You generally don't see Black agents in the motion picture, television or Broadway entertainment venues because these coveted positions were traditionally reserved for White persons who, in the old days, would typically work at Hollywood's William Morris Agency or Creative Artists Agency. Today sports has become a more specific entity requiring from an agent a fundamental knowledge of the playing fields/courts and what it may take to lead a teenager or young adult from amateur status to the pinnacle of professional athletics.
The first celebrities that Black sports agents have generally sought to represent have been African Americans, many of whom never knew Black agents existed or, sadly, have demonstrated limited faith in these agents' respective abilities to convince an influential White powerbroker to believe what they say about their client. This tradition has, in past years, represented an unfortunate standard of belief and faith among some Black athletes about soliciting the advice of a qualified Black man or woman eager to represent them in multimillion-dollar contract negotiations.
That's no longer the case.
Today, the BSAA is the premier collective of Black sports agents and now boasts several hundred members who have for 20 years successfully negotiated more than $3 billion in annual salaries and business transactions. They've also created the Executive Membership Program which has become a group of top entrepreneurs and business executives that educate, develop and partner with player representatives, professional athletes, entertainers and the community at large to strategize about respective entrepreneurial goals of the "rich and famous" of color. The BSAA wants to foster better relationships with other successful Black front-office sports executives—sometimes outside of sports—to promote economic development that, maybe, could filter down into Black communities nationwide. This is part of an effort to introduce more minorities into working in front offices.
Over the past two decades, African Americans have made significant inroads into the high-finance and perennially stressful world of professional sports agents. Among the biggest names are: Bill Strickland of Blackwave Media Group, who was the first Black agent listed by Sporting News (2009) as one of the "100 Most Powerful People in Sports." Among his many current and past clients are NBA stars Rasheed Wallace and Joakim Noah and NFL star Daunte Culpepper; C. Lamont Smith, founder/president of All Pro Sports and Entertainment, and negotiator of a $42 million contract for Eddie George of the NFL; Kimberly Holland (representing track star and Olympic silver medalist Terrence Trammell); Aaron Goodwin, CEO of Goodwin Sports Management (GSM) and representing Kevin Durant and Dwight Howard of the NBA; Eric Goodwin, president of GSM (Matt Barnes and Chris Webber of the NBA); Bill Duffy, founder of Bill Duffy Associates International, with offices in seven countries (Rajon Rondo, Steve Nash and Yao Ming of the NBA); Larry Reynolds (baseball stars Tori Hunter, brothers Justin and B.J. Upton); Fletcher N. Smith, founder/owner of Blueprint Management Group which renegotiated former NFL quarterback Donovan McNabb's 2002 contract that included a then record-high $20.5 million signing bonus; Henry Thomas, former president of the sports marketing/management group Consolidated Sports Management Group Inc. (basketball stars Dwyane Wade and Chris Bosh); and Sharon Creer who manages clients from Houston, Texas, to Slovakia (including WNBA players Tiffani Johnson and Toccara Williams).