Black sports agents advancing in professional athletics
They know 'how to make a millionaire'
By Merdies Hayes | 7/24/2014, midnight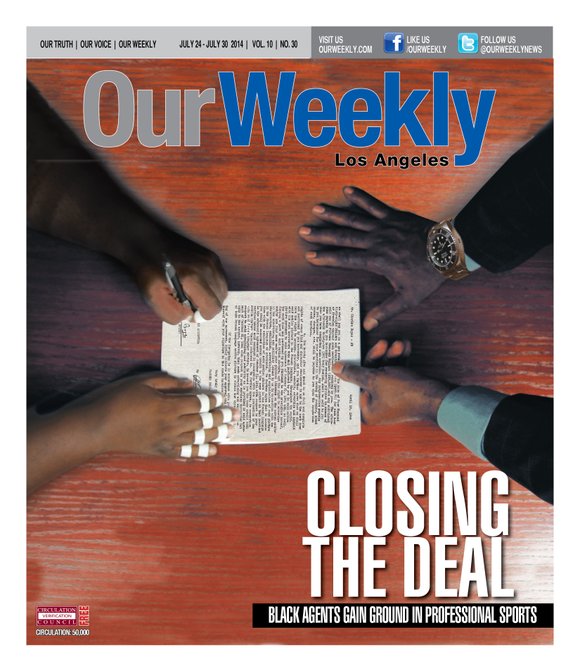 A generation of Black sports stars have graced American playing fields and courts the past 40 years and have come into our living rooms as examples of personal determination, youth role models and social progress.
Yet few of them have been represented by an agent who looks like them. That dynamic began to change somewhat in the mid-1990s when the Black Sports Agents Association (BSAA) conducted its first regular general meeting to address the imbalance of representation among sports agents. Back then, it was the Rev. Jesse Jackson and the Rainbow-PUSH Coalition who convened this rather upstart group, comprised primarily of lawyers, accountants and former professional athletes. They wanted to form a coalition to attract other African Americans to step into the ritzy, glitzy world of high-stakes negotiations between some of the world's most prominent businesspersons and some of the world's finest athletes.
Professional sports has opened a door during the past half century to economic prosperity for Blacks and other minorities that, generally, does not exist in many other parts of American society. A sports agent often serves as the gatekeeper into this rarefied world.
According to bylaws set forth by the Uniform Athlete Agents Act of 2000, a sports agent is typically charged with helping a professional athlete manage his/her career. They may work with one person or provide services to several clients, handling accounting and legal duties, negotiating contracts as well as providing advice about signing contracts. A big part of the job also involves marketing their clients to potential sponsors to increase a player's notoriety and, certainly, their bank account. The primary responsibility of the agent is to get the client(s) the best deal on performance contracts by meeting personally with team owners, general managers and coaches. This is when they discuss a proposed salary, length of contract, benefits and certain stipulations/riders based on the needs and desires of the client.
The BSAA originally set out to strengthen the "involvement, credibility, representation, image and cohesiveness" of African Americans in the sports industry. Among its five major goals are to: (1) "enhance the visibility, (2) create and promote a vehicle to articulate the goals/objectives, (3) educate/ develop, (4) promote ethical principals/practices, and (5) advance the interest" of professional athletes among Black player representatives.
Agents will seek out lucrative contracts by regularly communicating with other teams' general managers across the various professional sports leagues. In representing draft choices—mostly the premier college players or those extremely rare "can't miss" prospects from high school or amateur status (e.g. Kobe Bryant, the Williams sisters, Yasiel Puig)—the agent must market the player to scouts and to team executives to build their reputation to improve chances of securing a good deal.
A new face of agents
Agents will also suggest and often oversee endorsement contracts with sponsors. Many apparel, automobile and consumer-based companies—the latter group ranging from men's toiletries to electronic gadgets—will eagerly sign contracts with athletes to increase sales of their goods. The agent will generally spend most of the day managing finances, keeping careful records of a client's playing wages, sponsorship benefits and expenses. Sometimes they'll complete tax forms, set up an insurance plan, provide legal counsel (provided they are an attorney) and give advice about smart investments.