NAACP, Urban League host annual conventions
Oldest Black Civil rights organizations champion jobs, voter rights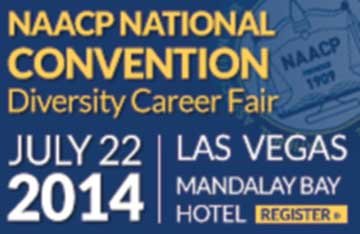 These empowerment goals are in education, jobs, housing and health.
The National Urban League is also supporting and advocating for the Urban Jobs Act. According to their website, the bill addresses education, skills and employment needs of millions of individuals who are unemployed or under-employed and face multiple barriers to employment.
One key focus of the National Urban League is their program, "Jobs Rebuild America." This is a $100 million partnership across the public, private and nonprofit sectors to improve outcomes for job seekers, vulnerable youth and entrepreneurs in hard-pressed urban communities.
The NAACP Convention will also hold two important events. One is the ACT-SO (Afro-Academic, Cultural, Technological and Scientific Olympics), a scholastic competition for African American and Latino high school students. The competition starts at the local level, and winners showcase their projects nationally at the Convention. Created by journalist Vernon Jarrett to reflect the need of a program to move families forward to show, "we are as excited about academics, as we have been in athletics," he stated. Among the former ACT-SO winners are Academy Award winner Jennifer Hudson and director John Singleton. Previous winning projects in the sciences have showcased robotics, computer programs and apps which monitor blood pressure and sickle cell.
The National Urban League is also holding a number of youth oriented events that will take place at their convention. The annual Youth Leadership Summit will bring together 350 young people for four days of rigorous college and career lessons, as well as leadership training. There will also be the Career and Networking Fair. This event attracts approximately 3,000 job seekers which include young professionals as well as recent college graduates from across the country. The three-day event includes social media and outreach to local professional organizations, universities and Urban League affiliate cities. It offers a variety of options for companies to participate, including a Virtual Career Fair, career-focused workshops, and industry meet ups. There is also the Speed Networking Event that connects recruiters and young professionals.
The Spingarn Medal Award, the NAACP's highest honor, will be presented to Quincy Jones at the convention. The award is given annually to a man or woman of African descent and American citizenship for outstanding achievement. "Quincy Jones has contributed in many ways to the Civil Rights movement," stated Shelton. "He supported initiatives, contributed financially, and helped raise money for the movement. (Among other actions) he led production efforts for, 'We Are the World,' not only for funding those efforts in Africa, but those in the U.S. who addressed those concerns."
First awarded in 1914, some previous recipients of the Spingarn have been George Washington Carver, Mary McLeod Bethune, Charles Drew, Martin Luther King Jr., Bill Cosby, Colin Powell and Oprah Winfrey. Shelton concluded, "It not only speaks to where we're from, but our vision moving forward."
The NUL will also hold various award receptions, including their 'Women of Power Awards Luncheon,' which honors successful women for their trailblazing careers and the example they have set for other women in the workforce, as well as the National Council of Urban league Guilds Leadership Luncheon in which they will present their highest volunteer award.
For more information on the NAACP National Convention, see their website, http://www.naacp.org/
For the National Urban League Convention, see their website, http://nul.iamempowered.com/