Palmdale continues to lead region in renewable energy sources
LED lights, solar shades part of 'green' initiative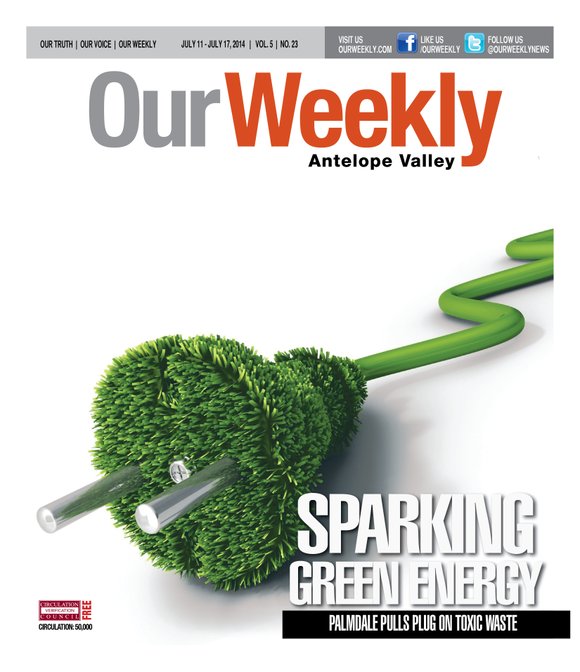 The city of Palmdale is continuing its quest to become one of the nation's most energy-efficient municipalities by virtue of its Energy Action Plan (PEAP) which in four years has resulted in a significant reduction in energy costs for residents and businesses. Carbon emissions are reportedly as low as any city on the West Coast, thanks in part to a series of policies and programs put in place to reduce the output of greenhouse gasses (GHG).
Among the ongoing programs are the implementation of energy efficiency plans such as retrofitting indoor fluorescent lights with more efficient LED lights at the Palmdale Transportation Center and, at Palmdale City Hall, supplementing air conditioning units with high-tech "load shifting" Ice Bear Air Conditioning units. Solar shade structure arrays are being constructed around town—via a Power Purchase Agreement—which will allow the city to retain all renewable energy credits.
A traffic signal synchronization project is continuing with high hopes of keeping rush-hour traffic moving at a swifter pace; and the power plant is expected to significantly lower the amount of GHG emissions. As well, the all-electric California High Speed Rail is scheduled to pass through Palmdale and, by 2030, the electric commuter train could help eliminate between 4.5 and 8.4 million metric tons of GHG emissions. City officials are also touting a "buy local" campaign to help cut down on about 40 percent of the city's GHG.
Palmdale presented its innovative energy efficiency program last month in San Diego at the fifth annual Statewide Energy Efficiency Best Practices Forum. The PEAP plan was instituted to help the city meet the state mandated greenhouse gas emission goals (based on 1990 levels) within the next six years, as prescribed by Assembly Bill 32.
"I was excited to present our programs as an example of how a city can effectively have a positive impact on the environment through efficient energy practices," said Ben Lucha, Palmdale administrative analyst. Palmdale Director of Public Works Mike Mischel was also present at the conference and said the city remains at the forefront of "best practices" in terms of energy efficiency and new technology which can result in better energy production and delivery to customers. "We received some very nice feedback about what Palmdale is doing in terms of reducing GHG emissions, while saving money and not creating a negative impact on local residents or businesses," Mischel said.
Reducing 'carbon footprint'
There are tangible benefits for Palmdale in its move to "green" energy production/consumption. The new LED lights reportedly last 20 percent longer and use 90 percent less energy than traditional incandescent bulbs. Although businesses and homeowners often point to the higher cost of switching to LED bulbs, the cost over an extended period of time can be offset, because the lights need not be replaced as often. This energy-saving effort is said to reduce the "carbon footprint" which serves as a measure of the CO2 emissions that result from electricity produced by coal-fired plants. Secondarily, replacing the lights can help reduce the "indirect" CO2 emissions created across the entire lifecycle of a product. These two measures of CO2 emissions can include everything from the extraction of raw materials and manufacturing, through the product's use and reuse and on through recycling and disposal. At every phase of existence, such energy-producing products contribute to an "indirect" carbon footprint.