Beach themed block party planned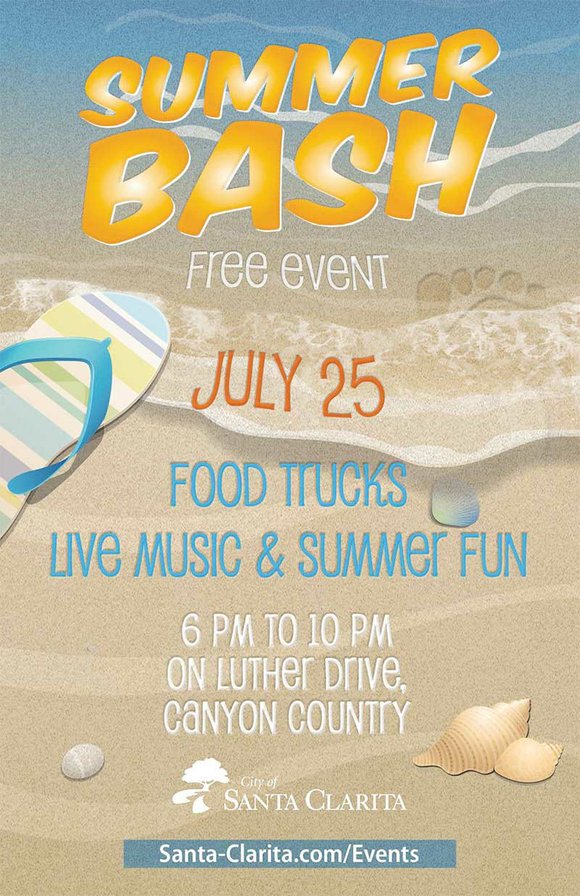 The city of Santa Clarita prepares to kick off its 2014 Summer Bash block party on Friday, July 25 from 6-10 p.m. in a new Canyon Country location at Luther Driver between Soledad Canyon Road and Mandan Street.
The free Summer Bash event will feature 75 tons of sand flooding the streets and California Rock n' Roll music filling the air. Attendees can bop to classic beach tunes as they build sandcastles, pose with lifeguards and experience a variety of activities, including mechanical shark rides, inflatable slides and more.
Food and refreshments will be available for purchase from a selection of food trucks, including A Rockin' Ice, The Surfer Taco, Tornado Potato and Cousins Maine Lobster, as well as local eateries.
"The beach-themed Summer Bash is one of the city's most popular community events, and we're thrilled to bring it to Canyon Country this year," said Mayor Laurene Weste. "Residents of all ages and neighborhoods are invited to come out and enjoy live music, entertainment, food and quintessential summer activities."

The 2014 Summer Bash event also marks the culmination of the Santa Clarita Public Library's 2014 Summer Reading Program, Paws to Read. Attendees will be able to enter to win raffle prizes from the Santa Clarita Public Library, celebrating the close of another successful year for summer reading.
For more information on the event, call (661) 250-3787 or visit Arts.Santa-Clarita.com/Summer-Bash/.