Young, Black and 'Ready for Hillary'
Grassroots supporters fundraise for the 2016 hopeful
By Avery Jordan | 7/10/2014, midnight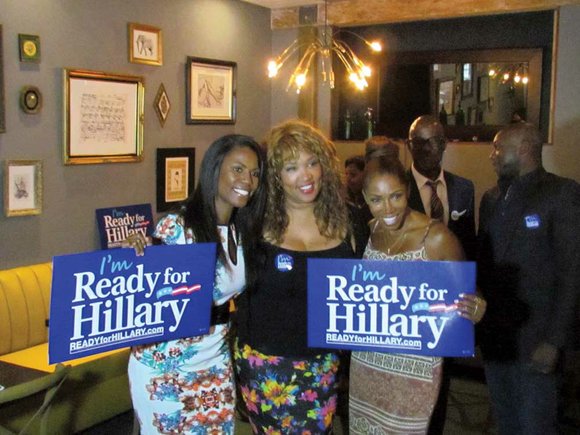 America has had a Black president for two terms, and now support is growing to support the next president being a woman: Hillary Clinton.
On Thursday June 26, supporters of the grassroots organization Ready for Hillary gathered for a fundraising event at Madera's Kitchen on North Cahuenga Boulevard in Los Angeles. Tickets to this fundraising event were $20.16 and donations were being accepted as well. The Ready for Hillary fundraiser featured special guests such as Assemblymember Sebastian Ridley-Thomas, and actress and grassroots advocates Victoria Rowell and Adrienne-Joi Johnson. Similar fundraising events have taken place all across the nation in cities such as Phoenix, Philadelphia, New York, and Washington D.C. to name a few.
Quentin James, the man orchestrating the Ready for Hillary fundraising efforts, helped start the organization in 2013. "The movement started from two volunteers and a P.O. Box, and now we have grown to more than two million supporters and more than 55 thousand donors who are a part of this movement and are excited to see Hillary run for president in 2016." James stated that the organization will make a large push from the grassroots supporters to help solidify Clinton's chances of becoming president in the upcoming election.
"Young, Black and Ready" is a movement within the Ready for Hillary campaign that consists of young, professional people of color encouraging their peers to vote and support Clinton's anticipated presidential campaign.
"All across the country through the summer and fall," James explained, "we are doing these events to engage the young Black community who are excited and ready for Hillary." He also stated that he was very pleased with the support that the movement was gaining from the younger Black crowd and from social media such as Twitter and Facebook. "I think it's clear that those who supported Obama are ready to support a woman in the White House, and we hope that woman will be Hillary."
The main roadblock for the Ready for Hillary campaign is that they do not know for sure if Clinton is going to run for president in 2016. She has not yet made a decision, but the organization is still focusing on fundraising and gaining support in case she does decide to run for president.
The grassroots organization is extremely positive and James definitely conveyed that throughout the night. "It's never too early to be a part of this movement. By individuals giving their money tonight as a contribution, they are showing that they are not just going to show support, but they are going to invest in this movement. This has never been done before. There has never been a super PAC before there was a candidate, so we are very excited, especially when we see the number of supporters that come out to join us."