L.A. Sands Boxing Gym builds champions in the ring and life
For some that means a boxing career, for others it's simply getting into better shape and learning self-defense
By Jason Lewis OW Contributor | 7/10/2014, midnight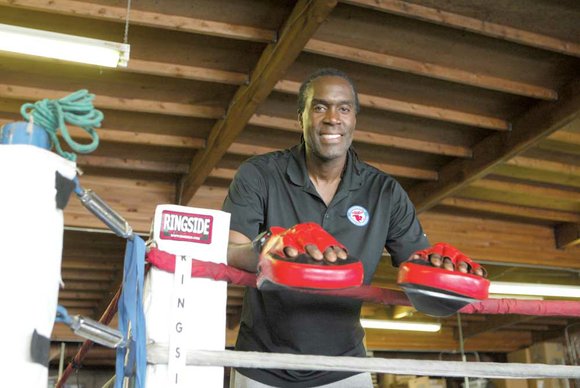 Walk into L.A. Sands Boxing Gym in Downtown Los Angeles, and you will find people getting it on. They are throwing punches, working on their foot work, and keeping their bodies in motion while working up a sweat.

Some are training for a career in boxing. But most of the gym's clients are looking to get in shape, which can be a problem for Anthony Sands, the owner and head trainer.
He has seen people lose 20 to 30 pounds in their first month. He says they make it to their desired weight pretty quick, which is not the best strategy for holding members for a long period of time. But Sands is looking to get people results, so he considers it a good problem to have.
"What we do is teach people how to box who have absolutely no background in boxing at all," Sands said. "I can take somebody with two left feet and teach them how to go through a boxing workout."
Boxing, like any sport, can be very technical, but that is not an issue, says the trainer, because of his teaching style.
"It takes a lot of patience, and the ability to explain the drills and simplify the athletic movements for people," Sands said. "People pick up the techniques pretty readily. Once they visit our gym, say (for) a month, they have the boxing workout and the boxing technique down pat."
Sands has taken a number of people who have just walked into his gym without any boxing experience, and turned them into some of the best amateur fighters in nation. He has produced several State Golden Gloves champions, and some of the boxers have turned professional.
Sands said he likes working with beginners, because it allows him to teach.
"My focus is to take raw talent, cultivate it, and develop it according to the boxing specifications that I feel are the most essential for a professional fighter," Sands said.
Sands has even taken a few people who were overweight and turned them into fighters.
In particular, a couple of people came into the gym with the goal of losing weight. They shed more than 100 pounds, and decided to fight competitively. But for many people, getting into shape without being hit is the main goal.

Self-defense is another reason why people train, and L.A. Sands Gym teaches them the skills of throwing punches, while avoiding them at the same time.
The gym also has a youth program that has changed lives for many children who have behavioral issues. Sands recalls one child who would get into fights at school on a regular basis.
"He basically was a kid who was headed for the penitentiary were it not for boxing; . . . that gave him a creative outlet," Sands said. "Boxing gives the individual a discipline. That discipline translates and it carries over."

Sands is developing a non-profit component of the gym, which will allow him to expand the youth program, which takes youngsters starting at age 8.

Like any sport, Sands said it is better to start a child at a younger age, and the children typically do not have any trouble picking up the sport.
"We find that the kids develop and grasp the ideas and the concepts a lot quicker than an adult who comes in off of the street and tries to learn how to box, who has never done it before," Sands said.
L.A. Sands Boxing Gym is great for anybody, male or female, who wants to get in a great workout or step up to the challenge of taking on an opponent in the squared ring.
L.A. Sands Boxing Gym is located at 1515 Compton Ave. For details, call (213) 765-0057.