Race relations in Antelope Valley continue to stir controversy
Hate crimes down in L.A. County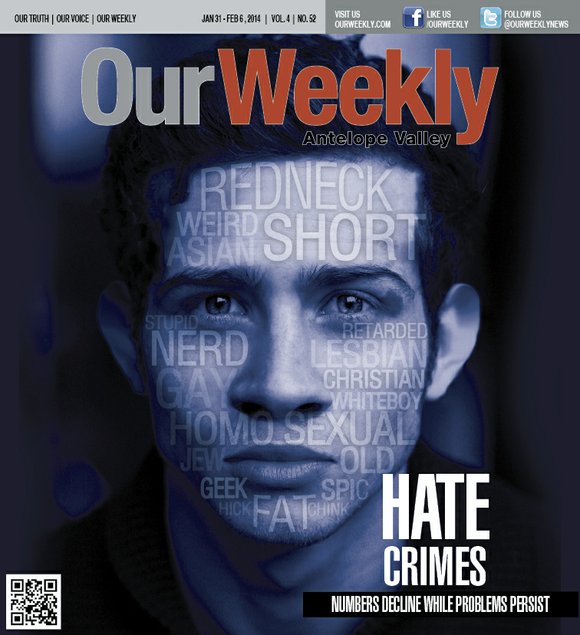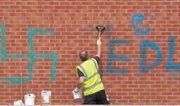 In August 2011, Palmdale's First AME Church was firebombed, and garages and other property of Section 8 residents were vandalized with "I Hate Section 8," swastikas and racial slurs.
Section 8 is the common term for the county's Housing Choice Voucher Program that provides payment to the landlord—occasionally up to 80 percent—for low-income persons to move up from housing projects to a single-family home, many times in neighborhoods that they otherwise could not afford to live.
The Sheriff's department in the Antelope Valley utilize what are called "compliance officers" who periodically stop by these residences in effort to root out fraud. Unique to the Antelope Valley are county housing inspectors who bring with them armed Sheriff's deputies; they often find fraud but, according to Murrell, the deputies regularly use "heavy-handed" methods to make residents comply with their orders. He said many families believe the aggressive behavior by the housing and Sheriff's departments have encouraged vigilante attacks and various hate crimes against African Americans.
"These guys come in like storm troopers, wrecking everything in sight in order to carry out their orders," Murrell said. "We found a deputy's bootprint on top of a dresser in a child's bedroom, and they left the place in shambles without finding any drugs, no gang affiliation and no Section 8 fraud. These types of raids, under the guise of 'compliance,' are nothing more than a propaganda campaign by the Sheriff's department to say Section 8 people are not welcome. There's been no data produced to demonstrate that Section 8 people are harmful. All this does is create fear mongering between the Sheriff's department and Black residents."
Lancaster Mayor R. Rex Parris has for the past several years disputed these claims, but he did reveal in 2011 that he laments the amount of low-income residents migrating into his city from urban areas such as South Los Angeles, Watts and Compton. "What the county housing authority is attempting to do is move their poor up to the suburbs so they don't have to provide them any services, such as medical or rehabilitation services," Parris to the Los Angeles Times. "It's a systematic conspiracy. Do I think there is racism involved? Absolutely. But I don't think it's coming from our end."
Because of these Section 8 raids, the DOJ began an investigation two years ago against the cities of Palmdale and Lancaster, as well as the Sheriff's department. A multi-million dollar lawsuit may be forthcoming if the parties cannot reach an agreement.
"The level of hostility in these cities as expressed and enforced by authorities is astonishing," said Catherine Lhamon, director of impact litigation at Public Counsel, a public-interest law firm representing the mostly minority plaintiffs. She said that those who claim to have been unjustly terminated from Section 8 find each city acts in support of county actions which merely "rubber stamp" the cutoff requests. "Fifty years after courts outlawed racial segregation, Lancaster and Palmdale have turned back the clock, turning neighbor against neighbor in the process. They should be building community, not tearing it apart."