Race relations in Antelope Valley continue to stir controversy
Hate crimes down in L.A. County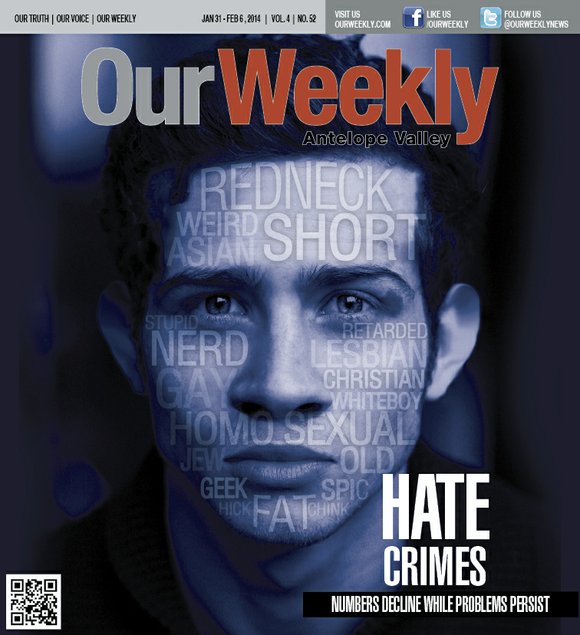 The report found that African Americans were the targets in 75 percent of the 61 reported hate crimes in 2012 in which the subjects were gang members. Also, there were findings that showed that the number of hate crimes took place in what the commission calls the "metro region" of the county, broadly described as the areas between West Hollywood and Boyle Heights. After that, it was the San Fernando Valley; when population size is considered, the Antelope Valley tied the metro region for the highest number of hate crimes. White supremacist groups were responsible for 16 percent (77 reported cases) of hate crimes in 2012, falling 25 percent from 103 reports in 2011.
"It is squarely the responsibility of our [Black] leaders and elected officials to educate what has become a subservient community in the Antelope Valley," said community activist Emmit Murrell. "Too often our own people become desensitized to this ugly behavior and do little to educate the public about what lawful remedies are available to them. Would you believe that a Palmdale High School teacher actually asked a Black kid, 'What if I called you a fking n*er?' That's no way to conduct yourself, no matter what the lesson is at hand. Insults like this have, unfortunately, become typical within the day-to-day interaction of Whites and Latinos with Black persons."
Hate crimes see no color distinction. In Palmdale two years ago, two Black victims (one gay and the other a transgender woman) were eating in a fast food restaurant when three Black males and a Black female approached them as one of the perpetrators shouted: "You're a f*in' faggot! You should be with a man." Then the group repeatedly punched the gay man and the two diners left fearing for their lives. The suspects followed, caught them and continued the beating.
The Antelope Valley had 35 reported hate crimes in 2011, representing a slight improvement over the previous year, but this area still leads the list of hate crimes per population. In late 2012, a Latino family found their house burglarized and vandalized with graffiti that included swastikas and the words "White Power." A few months prior to this incident, two Black male friends, both 13, were the targets of ongoing harassment for having Latino friends; Latino gang members swarmed around the two at their apartment building shouting the name of their gang, "Southside," threatening to beat them up if they saw them associating again with their Latino friends.
Toma said his commission is working with community partners in areas where there have been high levels of gang-related hate crimes. "We know there's been a lack of after-school programs for young people, mentoring, family and parenting support," he explained. "We're working with respected ex-gang members to reduce violence through the county's gang violence reduction initiative."
Toma is referring to a multi-year initiative launched in 2007 which has spotlighted key areas within the county where hate crimes are prevalent. Though funding has been scaled back in recent years, he believes the program has provided valuable resources to reduce the number of hate crimes and increase racial harmony. "We're obviously pleased about the general decline. We think it's due to a lot of factors...increased investment by our governments and communities in the nonpunitive approaches to dealing with hate crimes; getting to the root causes of where it's coming from; working in the schools; implementing more policies and practices that are countering prejudices and bigotry."