Race relations in Antelope Valley continue to stir controversy
Hate crimes down in L.A. County
The number of hate crimes reported and prosecuted throughout Los Angeles County has dipped during the past five years, but African Americans residing in the Antelope Valley remain skeptical of these findings. Representatives of a number of civic groups met recently with OurWeekly to reveal widespread incidences of threats, intimidation and physical altercations which have ranged from "hate literature" being strewn around Black neighborhoods, to "storm trooper"-like tactics among law enforcement.
"We've had two to three decades of inaction here," said Nigel Holly, co-founder of T-Cal Community Action League which has for three years documented cases of racial intimidation in the Antelope Valley. "That's why we went immediately to the DOJ (Department of Justice) and the NAACP. When city leadership and the Sheriff's Department seem to turn a deaf ear to these complaints, Black citizens have no alternative but to pursue legal redress outside of the county."
Holly is referring to numerous fliers and circulars distributed this month in both Palmdale and Lancaster blaring: "We hate N*rs," "Fk Mandela-loving Nrs" and "Nrs get out." It was revealed that these types of tactics designed to intimidate African Americans from living socially with Whites, as well as to instill fear among other families who may wish to move into the area. They said this has been going on for years and that their complaints have received only "lip service" from local government officials and leaders who represent county interests as well as those charged with enforcing the law.
The Los Angeles County Commission on Human Relations released in October 2013 its annual hate crime report and found that there has been a 6 percent decline (489 hate crimes reported in 2011, compared to 462 in 2012), representing a downward trend begun in 2008. But Blacks persons in the Antelope Valley are reportedly still being subjected to vile racial comments from some residents—the majority of which being White and Latino teenagers—and excessive use of force by Sheriff's deputies.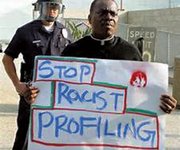 County officials have attributed the decline in reported hate crimes to federal and local law enforcement agencies that have focused crime suppression on gangs that have a history of committing racially-motivated crimes. About half of the county's reported hate crimes (49 percent) were racially motivated; 66 percent of these incidents were directed at African Americans (representing 9 percent of the county population) of which 68 percent were perpetrated by Latinos. Blacks were suspects in 58 percent of hate crimes directed at Latinos.
"This year is the second lowest total reported in 23 years," said Robin Toma, executive director of the county's Human Relations Commission. "But certain groups face especially high rates of victimization."
The county's ethnic groups (i.e. non-specific Middle Eastern, Armenian, White, Asian/Pacific Islander and Chinese citizens) saw decreases in hate crimes.
Religious hate crimes—particularly against Muslim-Americans—have declined by about 4 percent since 2008, mostly because the number of cases investigated involving vandalism with anti-religious messages have decreased. African Americans, Latinos, Jews and the LGBT community made up 86 percent of all reported hate crimes in 2012, remaining at about the same level for the past three years. The report highlighted the persistent number of anti-Black crimes committed by Latino gang members. Latinos make up about half of the county population, being victimized by 18 percent of reported hate crimes.