Jewett Walker selected to lead local church
From politics to pulpit, a pastor finally follows his calling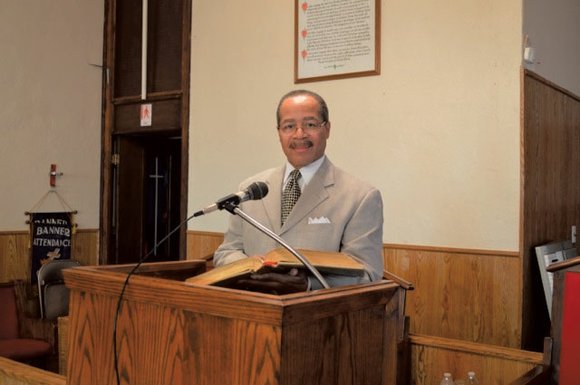 When Walker was initially approached and invited by members of Shady Grove Baptist Church to run as a possible pastoral candidate, he wasn't sure of his chances of actually being chosen.
After a lengthy vetting process, it was announced just before Thanksgiving that Walker had been chosen as the church's new leader.
Since then, Jewett has been busy rebuilding and re-branding the church.
One of the first changes that he made was to add the word "New" to the name of the church.
In addition to the name change, Walker has plans for updating the sound system, extending the church's community outreach, as well as continuing the church's weekly food bank program.
He's also started working on a website for the church which will feature audio of his Sunday sermons for download.
One of his greatest passions in his new role is going to be the resurgence of the church's Men's Ministry and mentoring program, the latter of which he plans to model after 100 Black Men's See Your Future mentoring program.
The Men's Ministry will help men with issues of support, education, custody, visitation, and employment—all issues near and dear to the new pastor's heart.
On his preaching style, Walker says that he's not a "whooper."
"I don't want anything to get in the way of the message or to be a distraction," he said.
More educational in tone, Walker says that he does not dance or sing in the pulpit but gets the message across just the same.
Currently, New Shady Grove Baptist church offers an 11 a.m. Sunday service that lasts just about an hour—a bit longer on first Sundays. Walker refers to the services as a "blended service" that offers elements of a traditional Black Baptist church, but is also adapted to meet the needs of the people today.
The church plans to add additional Sunday services at 8 a.m. and 9:30 a.m.
While not entirely out of politics, having been tapped to run the campaign for George McKenna for L.A.U.S.D. school board in the upcoming June special election, Walker says that he's definitely focused on growing his new ministry over the next year.
"This is a new chapter in my life and I'm excited about the work and the people."
Walker is married to Sandra Black Walker, a retired administrator with the Inglewood Unified School District and is a father of three.
Founded in 1971 by Pastor William A. Loftin, New Shady Grove Baptist Church is located at 1509 West Manchester Avenue in Los Angeles and online at shadygrove.com.