Jewett Walker selected to lead local church
From politics to pulpit, a pastor finally follows his calling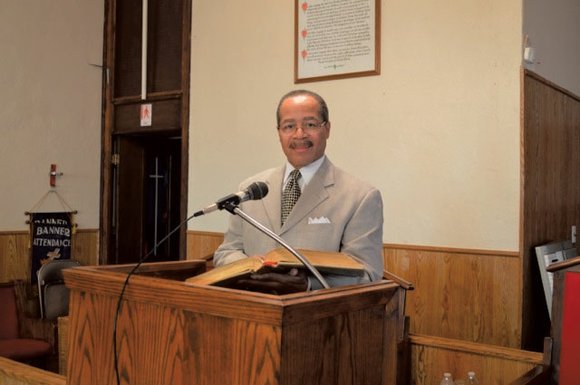 A new face is preaching from behind the pulpit at New Shady Grove Missionary Baptist Church on Manchester Avenue in South Los Angeles.
After going without a pastor for three years, and then undergoing an exhaustive search that lasted through the summer of 2013, the church formerly known simply as Shady Grove Missionary Baptist Church has chosen a new leader, Jewett Walker—now Pastor Jewett Walker.
The current president of 100 Black Men of Los Angeles, Walker is probably best known as a formidable challenger in local and state politics. As a political consultant, Walker has been behind the victories of many well-known Black politicians, including the state assembly races for Herb Wesson, Wilma Amina Carter, and the late Mervyn Dymally. In addition, he was instrumental in catapulting Marguerite LaMotte onto the Los Angeles Unified School District Board, a seat that she held until her recent passing.

But politics had nothing to do with Walker's most recent promotion or his call to ministry—a call he says he received at the age of 16.
Born in San Francisco and raised in Los Angeles, as a young boy, Walker recalls being discouraged by his father to follow his call in ministry. So he went on to graduate from Crenshaw High School and Cal State University, Long Beach before embarking on a fifteen-year career as an insurance executive.
During the mid-80s, the superintendent of the Inglewood Unified School District, Dr. Rex Fortune, a personal friend and fellow member of Jewett's fraternity Omega Psi Phi, was fired. It was at that moment that Walker jumped into the political arena after being called upon by members of the community to help with a re-election campaign of a local board member.
Walker recalls that single campaign inspired him to jump into the political arena full time.
Sometime later, Walker threw his own hat into the ring and ran for Inglewood's school board. He lost.
"I remember losing and losing bad," Walker reflected. "It was at that moment that I realized that there's got to be a better method to winning political campaigns."
So Walker enrolled in Campaigns & Elections political school in Washington D.C. where he says that he learned everything from A to Z on how to run a campaign.
For the next 25 years, Walker would go on to win powerful victories for the who's who in politics in Southern California.
He became so well known that Black politicians took note, some even commenting, "you came out of nowhere."
Now, at the age of 63, Walker is finally realizing what he feels is his true calling in life, and that's to preach the word of God.
An 8-year member of Inglewood's True Vine Baptist Church, took the steps needed to move forward in ministry in his 50s when he obtained a Master of Divinity degree from the Ministerial Training Institute, an International Accredited Bible College of higher learning, accredited by the Accrediting Commission International.
In addition, he currently serves as the treasurer of the Inglewood Area Minister's Association, a group that he's been associated with for seven years.