Mexico legalizes vigilantes, nabs cartel leader
1/28/2014, 1:20 p.m.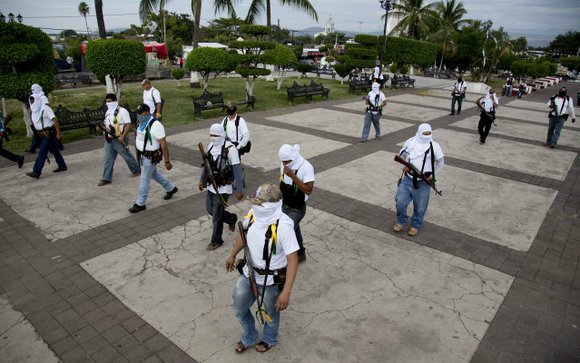 National Public Safety System secretary Monte Rubido said the feared drug lord was arrested without a shot being fired. He said federal forces found Loya Plancarte in Morelia, the capital of Michoacan, "hiding in a closet" and accompanied only by 16-year-old boy.
The 58-year-old Loya Plancarte had a 30-million peso ($2.25 million) reward on his head from the Mexican government for drug, organized crime and money-laundering charges. He was considered one of the country's three dozen most-wanted drug lords in the late 2000s.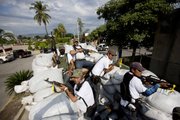 The Knights Templar ruled many parts of Michoacan with an iron fist, demanding extortion payments from businesses, farmers and workers, but the self-defense groups have gained ground against the cartel in recent months. Federal police and army troops were dispatched to bring peace to the troubled region, but the vigilantes have demanded the arrest of the cartel's major leaders before they lay down their guns.
Ramon Contreras, an activist in the vigilante movement from the town of La Ruana, which was the first to rise up against the Knights Templar, said the arrest "means a lot" to the vigilantes, but added that they won't rest until they see all the top bosses arrested.
Contreras voiced a common belief that the man who founded the cartel under the name La Familia Michoacana, Nazario Moreno, alias "El Chayo," is still alive, despite the government's statement in 2010 that he had been killed in a shootout with federal forces.
"He's still alive; there's proof he's still alive," Contreras said.
Loya Plancarte got his nickname, "The Uncle," because he is believed to be the uncle of another top Knights Templar leader, Enrique Plancarte Solis.
Loya Plancarte joined Plancarte Solis and Servando Gomez in forming the Knights Templar after the purported death of Nazario Moreno.
A local journalist from Michoacan recounted watching when Loya Plancarte led a sort of pilgrimage to a shrine erected to Nazario Moreno and had his assistants hand out 500-peso ($37) bills to people who attended.