Could Justin Bieber be deported?
Are criminal charges just the beginning of Justin Bieber's legal troubles?
1/28/2014, 2:20 p.m.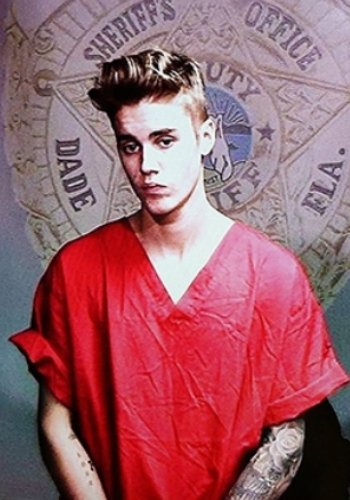 Since then, breathalyzer tests have suggested Bieber was not too drunk to legally drive when he was pulled over by Miami Beach police early Thursday. But it could be two or three weeks before tests that should give a more accurate blood-alcohol reading and could tell if he was high on pot are back from the lab.
When authorities searched Bieber's California home earlier this month, a deputy found suspected illegal drugs at the bedside of Bieber house guest Lil Za, who now faces a felony drug charge. But a detective who searched other parts of the home told CNN last week that he saw "no sign of drugs" there.
Bieber hasn't been charged with any drug-related crimes in connection with either case.
But if drugs were involved, that could change the equation when it comes to immigration issues, experts say.
"He may have a difficult time returning to the U.S. after traveling," Padilla said. "If there is a conviction on the use of marijuana, he may run into some issues when renewing his visa or even attempting to apply for residency."
And if authorities add a drug charge into the mix, that could eventually put deportation on the table, said Ira Kurzban, an attorney in Miami who wrote a widely used reference book on immigration law.
"Deportation grounds for drug-related crimes are broadly defined," Kurzban said. But a drunk-driving charge that isn't drug-related, he said, "is not a basis to deport somebody."
Decision near on Bieber's egging charge; singer takes it easy in Panama
A double standard?
Bieber was released Thursday from a Miami jail an hour after he made a brief appearance through a video link before a judge, who set a $2,500 bond that afternoon.
Since his arrest, some critics have wondered whether Bieber wouldn't be deported for reasons that have little to do with the law.
In a CNN.com opinion column last week, CNN contributor Ruben Navarrette suggested the wealthy singer's star status might be getting him special treatment.
"Bieber has an estimated net worth of about $130 million," Navarrette wrote. "I bet that, right about now, many of those Mexican immigrants who were deported because they came to the attention of local police officers for a burned-out taillight, or for not making a complete stop at an intersection, are wishing that they had been a rich, white kid with marginal music ability and too much money. If so, things might have gone differently for them."
But Padilla says there's a key difference between such examples and Bieber's case: He has a visa.
"The reason an individual who had failed to stop at a stop sign or is driving without a license comes in contact with immigration authorities is because they're undocumented," Padilla said. "You're not comparing apples to apples."