AV job prospects remain uncertain
Construction is down...but not out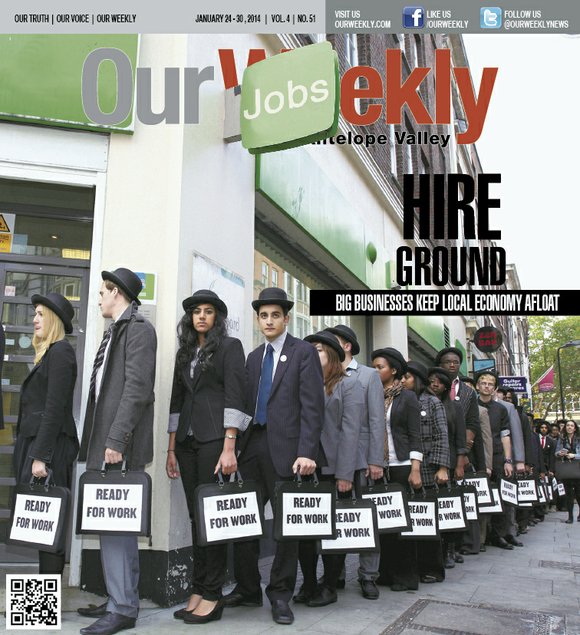 As the national economy continues to wobble its way out of the Great Recession, employment numbers in Los Angeles County are on a slight upswing with jobless rates hovering around 9.4 percent at the beginning of the year. The state labor force actually grew last year by .7 percent, while the County saw an increase of 1.5 percent.

But what do these small numbers mean when, nationwide, three persons are competing for every one job? The decline in unemployment can be traced directly to Americans who have simply stopped looking for work; once someone stops their job search, the government no longer counts them among the unemployed. The Antelope Valley has traditionally seen regular job growth within its signature industry, aeronautics, but even famed Edwards Air Force Base has experienced drastic cutbacks as the demand for high-tech machinery has fallen off during the past five years.
The prominent companies which call Palmdale home—Lockheed Martin Aeronautics Company, Northrup Grumman Corporation, the Boeing Company, BAE Systems and AERO Institute—employ just over 18,000 persons (when including U.S. Air Force personnel), but this number appears misleading when considering Palmdale itself had an unemployment rate of 11.7 percent at year's end, compared to 8.3 percent statewide and seven percent nationally.
The school districts, including Palmdale and Lancaster unified as well as Antelope Valley Union High School District, employ an estimated 5,000 persons. Other manufacturing outlets such as BYD, the Antelope Valley Solar Ranch One, the Palmdale Power Plant, Morton Manufacturing as well as Kinkisharyo have stepped into the void of late, trying to get persons back to work and give a boost to the local economy.
In the North Antelope Valley, the most common industry is educational services, followed by health care, public administration, transportation and construction. For men looking for work, the construction field appears to be the most accessible, followed by the transportation industry. Women in that geographic region significantly populate the health care profession, followed by educational services. But like the familiar story nationwide, these industries are still not hiring at a rate fast enough to return the economy to full vigor and strength. The reasons are myriad: "There's not enough demand," "There's too much uncertainty," "Workers are easily replaceable," "Workers are too expensive," "There's not enough lending from banks," "The deficit is too high," "Too many regulations," "Taxes are too high."
With 14 million people still looking for work, while the stock market and financial institutions have seen record gains over the past two years, it has become a frustrating measure for the unemployed person to believe that "happy days" are just over the horizon.
"There's no question that employers are being cautious about hiring, especially full time workers," said Sung Won Sohn, economics professor at Cal State University Channel Islands. "They're not certain the recovery is for real, so they're taking their time. And because of productivity gain, they don't need to hire as many people."
Employers today are not hiring because they've learned new production techniques that require less personnel. Stock holders tend to like less personnel because profit margins steadily increase, provided the quality of the product and service to the community does not decline.