Children of the Struggle
The Legacy of the Civil Rights Movement provided an additional hurdle for the generation that followed
1/23/2014, midnight
Idealism versus the Necessities of Life
"All the kids in the civil rights movement grew up famous with very high expectations, but no one ever gave them a dime personally."













-Activist, politician, and Pastor Andrew Jackson Young, Jr.
Being a drum major for social justice is no doubt uplifting for mankind, but that doesn't necessarily translate into food on the table. Meeting the goals of equality requires more than the courage to face down the fire hoses and German Shepherds of embittered segregationists.
It meant long hours of debating and planning the logistics and methods of protest, and winning and training converts well in advance of engaging the status quo.
Of course the marches and demonstrations themselves did not end the exertions of the activists. Often they resulted in incarceration, likely in some jail in an inhospitable backwater. In the event one was lucky enough to escape arrest, there was the time consuming matter of courting the press and presenting the events in anticipation of the next strategic move.
All of which left very little time allotted for the exhaustive requirements of parenting.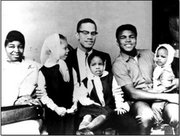 The Curse of Celebrity
These problems can be a stumbling block, even in the most stable, nurturing family environment. And so we come to those saddled with the burden of birth into the mantel of the Civil Rights Movement. Andrew Young, an MLK advisor, ally, and confidant, parlayed the skills honed in the Civil Rights Era into success as Atlanta's major, United Nations ambassador, and facilitator for international commerce to the Motherland. His first wife, Jean Childs Young, was a woman of accomplishment herself as an educator and advocate for children's rights.
These not inconsiderable achievements and the pressures of name recognition may have been a factor in the misbehavior of their only son, Andrew "Bo" Young III. Adolescence is a time of self discovery and boundary testing, and Bo gained a reputation in his native Atlanta as a hellion with episodes of alcohol and marijuana abuse, general delinquency, and brushes with the law. By his own admission, he actively cultivated his "bad boy" persona specifically to rebel against his parent's status as pillars of society.
As a young man, he reconciled his personal aspirations with the expectations of others by becoming an internet entrepreneur, with the establishment of GiveLocally.net, a social giving platform that utilizes modern technology to address poverty in the new millennium via on-line philanthropy.

Tangible Assets
Although they were polar opposites as far as their religious beliefs as well their approach to America's racial problems, Martin Luther King, Jr. and Malcolm X shared commonalities. Both sired four children in their lifetimes (Malcolm's two additional daughters were born after his death).
The foremost icon of that era, King sired two sons and two daughters. At the time this article was written, three survive, as his second child, daughter Yolanda passed in 2007 at the age of 51.
Exposed to the sentiments of many within her father's inner circle that she embrace the ministry, the political realm, or other aspect of social reform, Yolanda Denise King eventually gave into her artistic inclinations and became a stage actress, and in a nod to her father's legacy, pursued his vocation in tandem with activism for the advance of human rights. Aside from mild controversy stemming from the selection of roles she chose to play in her theatrical endeavors, Yolanda Denise King exhibited quite dignity until her untimely death in Santa Monica, Calif. on May 15, 2007.