B2G hosts 2014 West Coast Bowl
Jason Lewins | 1/23/2014, 2:53 p.m.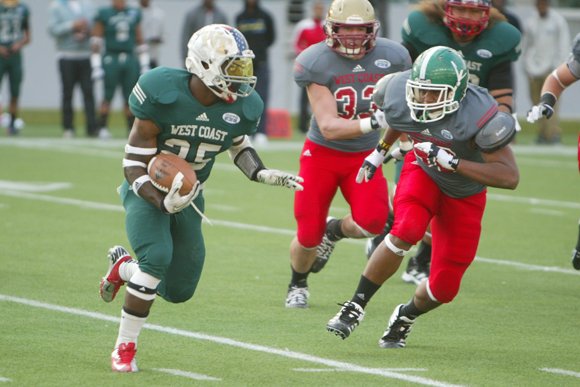 Anybody who is anybody in high school football in the Southern California area knows about B2G Sports. Over the past 14 years they have trained many of the top athletes in this region, and they have helped populate many college football rosters, especially in the PAC-12. The competition at their clinics is as fierce as any other place in the nation.
B2G will showcase their very best athletes this Sunday at 1 p.m. at the 2014 West Coast Bowl, which is one of the premier high school football all-star games in the nation. This year the game will be played at Redondo High School.
The weekend will also feature an underclassmen showcase, where freshmen through juniors can display their talents and receive vital information as they compete for college scholarships.
Out of the 100 players who competed in last year's West Coast Bowl, nearly 90 of them accepted football scholarships to major BCS schools, including USC, UCLA, Alabama, and LSU.
Over 70 percent of athletes who have attended B2G camps have received football scholarships, and 13 percent of B2G participants have been drafted into the NFL.

B2G was founded by Henry Bell and Ron Allen. They felt that there was not specialized training for football like there is for other sports.  Hill played football at Purdue and Allen at UCLA.  They both understand the limitations that high school coaching staffs have due to limited practice time and budget cuts.
"The high school coaches are not able to give these kids the time that we're able to spend with them to focus on skill training," Bell said.  "It's really more of a supplement to what the high school coaches are doing.  They're doing X's and O's, and the athletes come to us to get tutored on football training."
Allen feels that their training helps the athlete so that he can be the best player within his high school's system.
"We teach them how to be better individual players so that they can go execute the schemes for their high school team," Allen said.  "A lot of coaches do not have the time to teach every individual player and teach them their position.  They're more so teaching the whole scheme.  They teach the defense as a whole, they teach the offense as a whole.  They teach the concepts of the play that they're calling.  We teach the kids to be better individuals so they can execute their role within that playbook.  That way the kids go back as better players in their system."
To purchase tickets to the West Coast Bowl and to find more information about B2G Sports, visit their website at www.b2gsports.com