The Northridge Earthquake 20 years later
L.A. still not prepared for the 'Big One'
Is Los Angeles prepared for the "big one?" The general assumption around town is no. Twenty years after the 6.7 magnitude Northridge earthquake awakened Angelinos at 4:31 a.m. on Jan. 17, 1994, most buildings erect then have not been retrofitted, nor are drivers confident that roadways will be safe.
In South Los Angeles, the 10 Freeway overpass at Venice Boulevard and La Brea Avenue collapsed, while the 14 Freeway overpass fell once again—even after engineers believed the structure would remain intact after repair from the 1971 Sylmar earthquake. In general, South Los Angeles in 1994 did not experience the widespread damage that occurred in the San Fernando Valley or even as close as Santa Monica, but because this area may have some of the city's oldest structures, officials believe inspection and retrofitting the numerous old, brick builds is long overdue.
While Los Angeles is no stranger to earthquakes, a detailed analysis performed five years ago by Haresh C. Shah, professor of civil engineering at Stanford University, and associates at Risk Management Solutions Inc. of Menlo Park estimated then that a worse-case scenario magnitude 7.0 temblor on the Newport-Inglewood fault could result in a shocking 3,000 to 5,000 deaths, 11,000 to 20,000 hospitalizations and a total economic loss of $175 billion to $220 billion.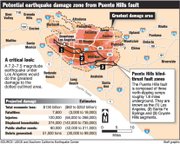 Four miles beneath the Coliseum and USC, the Puente Hills Fault is capable of a magnitude 7.1 earthquake which would bring havoc to South Los Angeles. This scenario would release about 10 to 15 times more energy than the Northridge Earthquake, resulting in the collapse of nearby highrises and possibly skyscrapers further north on Figueroa Street. "You wouldn't want to be in downtown if that earthquake were to happen," said Thomas H. Jordan, director of the Southland Earquake Center at USC.
Late last year, the Los Angeles Times identified seven concrete buildings in Los Angeles that are at major risk of collapse:
--Santee Alley. The buildings that tower over the popular shoppping district are not earthquake resistant,
--Capitol Records is made primarily of concrete,
--Hollywood Plaza off Vine Street is mostly concrete,
--The Avalon nightclub in Hollywood, from the 1920s, is mostly concrete,
--The Pantages Theatre has not been seismic retrofitted,
--The W Hotel in Westwood has never been retrofitted, and
--The Westwood Clock tower near UCLA is composed of concrete, lath and plaster.
Tomorrow at California State University, Northridge—whose Oviatt Library was demolished as it sat less than one mile from the epicenter at the Northridge Mall—city officials will commemorate the disaster and sound the familiar warning that we live in earthquake country and citizens should make preparation in case of an earthquake or any natural calamity. The event is presented by the Valley Economic Alliance, created in response to the Northridge Earthquake, and will feature Mayor Eric Garcetti and a cadre of local elected officials as well as members of congress.
They may speak on the new earthquake awareness system being developed by U.C. Berkeley and the U.S. Geological Survey which would place sensors up and down the state, designed to detect even the tiniest of vibrations. At Cal Tech in Pasadena last week, instrumental specialist Russell Oliver explained how the system could work: "If you put the sensor on one end of a football field and raised the opposite end by just the width of a human hair, the sensor would detect that. They are also able to detect forces as large and as subtle as the gravitational pull of the moon."