Texting dad at movies: 'I can't believe I got shot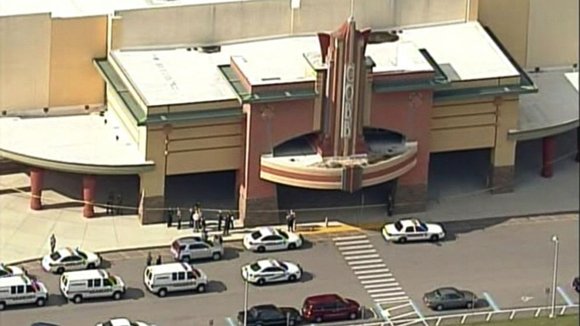 It started with a father sending text messages during the previews of an afternoon movie.
It ended with the 43-year-old father shot dead amid the theater seats, and a 71-year-old retired police officer in custody.
Charged with second-degree murder, the ex-cop is scheduled to make his first court appearance Tuesday at 1p.m.
The encounter between the victim and the shooter began during the previews ahead of the Peter Berg film "Lone Survivor" at the Grove 16 theater in the Tampa suburb of Wesley Chapel. The former officer, Curtis Reeves, was with his wife and sat behind Chad Oulson and his wife. Chad Oulson was using his cell phone and Reeves told him to put it away, according to police and witnesses.
The two men began to argue and Reeves walked out of the theater. Police said Reeves was going to complain to a theater employee, according to the police report.
When Reeves returned, witnesses and authorities said that Oulson asked him if he had gone to tell on him for texting. Oulson reportedly said, in effect: I was just sending a message to my young daughter.
Charles Cumming and his adult son were two seats away. Cummings said that when Reeves returned to the theater, he didn't return with a manager. "He came back very irritated," Cummings recalled.
Voices were raised. Oulson threw a bag of popcorn at Reeves, according to a police report, and then the former Tampa Police Department officer took out a .380 semi-automatic handgun and shot Oulson.
Oulson's wife Nicole raised her hand just before the shot was fired and the bullet went through her hand and into her husband's chest, authorities said.
As Oulson staggered and fell, "He said, 'I can't believe I got shot," the younger Cummings recounted. "Blood started coming out of his mouth. I was trying to hold him up. He just fell down."
Nicole Oulson suffered a non-life threatening wound. Her husband died after being taken to the hospital.
During an interview with Reeves with his arrest, and after the former cop was read his Miranda rights, Reeves admitted to firing his weapon at the victim because "he was in fear of being attacked," according to the police report.
Reeves told police that Oulson had hit him with what the police report describes as an "unknown object."
Witnesses told police they saw no punches being thrown during the incident, according to the report.
There were 25 people in the movie theater. After the shooting, some made valiant efforts to help Oulson, who later died at a hospital, and to make sure no other people were hurt.
An off-duty deputy sheriff from Sumter County rushed over to make sure no more shots were fired and that the shooter was not going to get up.
One of two nurses in the audience ran to Oulson's side and performed CPR until paramedics arrived. An autopsy will be conducted Tuesday.
"I can't believe people would bring a pistol to a movie," said Cummings, a Vietnam War veteran who was celebrating his birthday by spending the afternoon with his son.