Power plant further divides cities of Palmdale, Lancaster
New jobs but at what cost?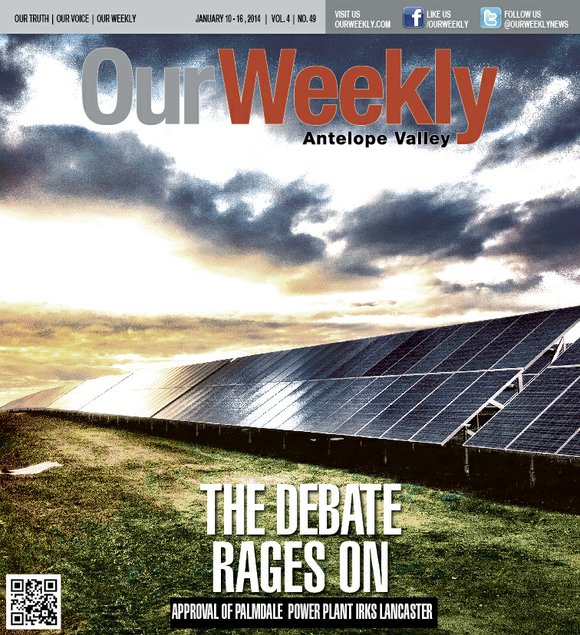 The credits would allow for the plant to discharge 152 tons of nitrogen oxide each year, and 60 tons of volatile organic compounds a year. That's too much for Lancaster, which claims the only thing they'll receive is air pollution and not one penny from the sale of the plant. Similar to a power plant running since 1941 in Burbank, the Palmdale facility would be located one mile south of Avenue M—the border of the two cities—and east of Sierra Highway adjacent to Air Force Plant 42. It will be fueled by natural gas and was originally approved by the California Energy Commission in 2011.
Officials at the AVAQMD say their sympathies are with Lancaster but, by law, their hands are tied. "I can understand their concerns," said Bret Banks, operations manager, in an interview last summer with California City News.org. "Here's the difficulty that our agency runs into: there are limits and thresholds that are put out in state and federal law, and if an applicant meets those thresholds, then our agency is required to issue a permit."
Lancaster officials attest that the region's gusting winds will carry the plant's estimated 546 tons of pollution straight into their city. Although the sparsely-populated Antelope Valley does not create a particularly large amount of industrial pollutants, its proximity to Los Angeles does expose it to levels of smog that has made the area among the nation's most heavily polluted zones. Lancaster city hall believes the plant will only exacerbate the problem.
Mayor Parris says the plant will be nothing more than a source of pollution for his city. "We have the highest asthma, the highest emphysema, the highest heart disease, the highest chronic lung problems of any place in the county, and yet they want to put a power plant on our border and blow all that air pollution over these people," Parris said after the AVAQMD vote.
Palmdale said the plant is far enough away from homes, schools and businesses and will not pose any threat to the health of Lancaster residents. The California Energy Commission (CEC) said in 2011: "There is no competent evidence in this record that the Palmdale Hybrid Power Plant poses any threat to the health of the public in general, or to residents of Lancaster in particular."
Crist strongly disagrees with the state finding. "We have 12.2 percent of the entire population in the Antelope Valley suffering from asthma; those people, those children would suffer because of that power plant. Again, the problem is the pollution from where it is located. Palmdale gets all the benefits, and Lancaster gets all of the pollution. This is essentially breaking a peanut in front of a child that has allergies to the peanut. It's not good. It's still dirty. It's not a renewable energy."
Palmdale says the lure of good-paying, full- and part-time jobs will be worth the effort to build and sell the plant. "We have the CEC and EPA (Environmental Protection Agency) approval," Ledford said. "This will in fact clean the air in the Antelope Valley, and it brings in all kinds of financial benefits. Eight-hundred great-paying jobs would be part of the construction of the power plant—and in an area where we have double-digit unemployment."