Defense in Kelly Thomas' killing wrap up closing arguments
Rebuttal scheduled today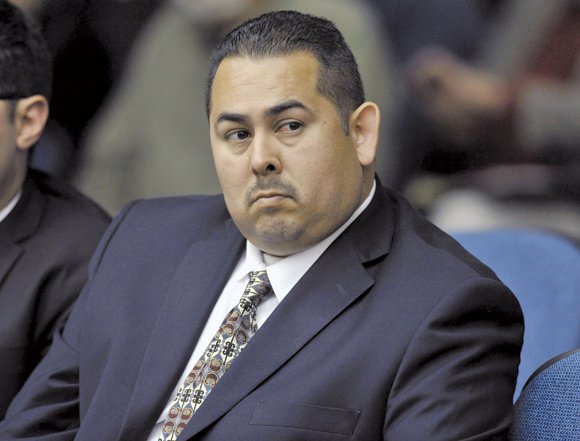 Attorneys for two former Fullerton officers accused in the July 2011 death of transient Kelly Thomas wrapped up their closing arguments Wednesday by claiming prosecutors did not meet their burden of proof.
Orange County District Attorney Tony Rackauckas will present his rebuttal today in the trial of former Cpl. Jay Cicinelli and former Officer Manuel Ramos.
Aside from the closing arguments, there was extra drama in the courtroom Wednesday when an indignant Orange County Superior Court Judge William Froeberg interrupted the proceedings to admonish the audience that someone had posted a photo of jurors on Twitter.
The photo was taken from a live broadcast feed and posted by someone outside the courtroom, investigators determined. A TV cameraman had accidentally caught a quick glance of the jury while adjusting equipment.
The Twitter scandal was revealed after Ramos' attorney, John Barnett, finished his closing argument, in which he continued to hammer away at the prosecution's argument that the ex-officer's threat to Thomas led to criminal
negligence and justified the murder charge against Ramos.
At issue is video that captured Ramos showing Thomas his latex glove-covered fists and declaring he would beat up the transient if he failed to comply with the officer's orders.
Barnett said Ramos had successfully used "conditional threats' before with Thomas, who was a familiar figure to local law enforcement, and reasonably could expect it would work again on July 5, 2011.
Barnett noted that retired FBI agent John Wilson Jr., a prosecution expert on the use of force, agreed that Ramos did the right thing on a prior encounter with Thomas when he asked the transient if he had ever been struck with a baton in the officer's effort to get him to obey orders. Barnett argued that the fists were like the baton.
A threat with a baton is OK, "but if I do this,' Barnett argued as he raised a fist, "that's murder. You have to decide if that makes sense ... Does it make any sense at all? No."'
The defense attorney also argued that Ramos relied on his training and noted that his trainer, Fullerton police Cpl. Stephen Rubio, testified that Ramos' actions on July 5, 2011, were consistent with what he was taught.
Rubio also testified that Ramos' actions complied with policy, as well, but those remarks have been stricken from the record and jurors are not allowed to consider them.
Like Barnett, Cicinelli's attorney, Michael Schwartz, ridiculed Wilson's expertise, pointing out he focused much of his career on white-collar fraud and worked in Washington, D.C.
"They picked an expert from 3,000 miles away who was never trained on a Taser," Schwartz said.
One of the "myths" in the prosecution's case is that Thomas had a right to self-defense and resist arrest because Ramos' threat frightened him, Schwartz told the jury in his closing argument.
"The first myth I'm going to talk about is the myth that Kelly Thomas throughout this ordeal was afraid for his life," Schwartz said. "He found himself in the middle of a fight that he started."