National college championship
Late touchdown pass gives Florida State college football's national championship
STEVEN HERBERT | 1/7/2014, 12:59 p.m.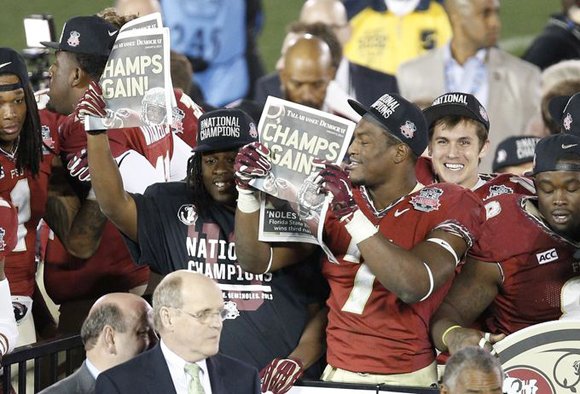 Jameis Winston threw a two-yard touchdown pass to Kelvin Benjamin with 13 seconds to play Monday night to give Florida State a 34-31 victory over Auburn in the Bowl Championship Series National Championship Game at the Rose Bowl.
The Seminoles drove 80 yards on seven plays in 58 seconds after Tre Mason put the Tigers ahead on a 37-yard touchdown run with 1:19 remaining.
Winston, the Heisman Trophy winner who turned 20 today, completed six of seven passes for 77 yards on the final drive, including a 49-yard pass to Rashad Greene on the second play.
The Seminoles (14-0) faced third down once on the drive, initially third- and-three from the Tigers five-yard line. A delay of game penalty pushed the ball back to the 10.
Auburn cornerback Chris Davis was called for pass interference in the end zone, giving Florida State a first down on Auburn's two with 17 seconds left.
Davis had returned a missed field goal attempt 109 yards for a touchdown as time expired for a 34-28 victory over No. 1-ranked and previously undefeated Alabama, the two-time defending national champion, Nov. 30.
Winston threw the winning touchdown pass on the next play before a crowd announced at 94,208.
"I wanted to be in that situation because that's what great quarterbacks do," Winston said.
"Any quarterback can go out there and perform when they're up 50-0 in the second quarter. That's what you're judged by, especially by your teammates. I'm pretty sure I got more respect from my teammates and the people around me on that last drive than I got the whole year."
Winston was selected as the Offensive MVP for completing 20 of 35 passes for 237 yards and two fourth-quarter touchdowns.
"It was the best football game he played all year," Seminoles coach Jimbo Fisher said. "For three quarters he was up and down and he fought. And just like any great player, some nights you don't have it.
"When you can go back like the great ones do, it's not my night but we've got a chance to win this ballgame, it's in the fourth quarter, I've got one or two touches left and you can take your team down the field and lead them to victory, that's what a great player is to me."
Florida State cornerback P.J. Williams was chosen as the defensive MVP. He intercepted a pass by Nick Marshall early in the fourth quarter. Winston threw a 11-yard touchdown pass to Chad Abram on the ensuing drive, cutting the Tigers lead to 21-20.
Auburn responded by driving to the Florida State six-yard line, but
Marshall's third-down pass was incomplete and the Tigers settled for Cody Parkey's 22-yard field goal.
Kermit Whitfield returned the ensuing kickoff 100 yards for a touchdown, putting the Seminoles ahead for the first time since the first quarter.
"They cut it back and they hit a seam," Tigers coach Gus Malzahn said.
"There was some good execution. Obviously we didn't cover it very well."
It was the first time Auburn allowed a touchdown on a kickoff return since a 2010 game against Chattanooga.