Colorado's recreational marijuana stores make history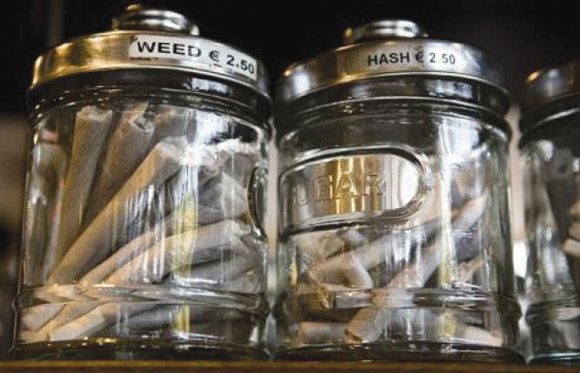 She didn't mind the long wait at the LoDo's Dispensary. "Everybody is cool and mellow and nice. So it's all good," she said.
Some motorists passing the pot shop honked and cheered the queue of buyers, who whooped in return.
One motorist, however, shouted a disparaging remark about the "potheads," and the crowd muttered raspberries in response.
Buyers whiled away the hours in line by talking aloud about the benefits of marijuana as a remedy for hangovers, headaches, sleeplessness and low appetite.
Then a young woman in a passing SUV slowed and interrupted them by asking, "What's going on, guys?"
"Legal pot sale!" a man in line shouted.
"Oh, I need an eighth!" the young woman shouted back excitedly. The car drove on.
In fact, around 11:30 a.m. MT, Don Andrews, whose family owns and runs the dispensary, announced to the waiting people on the sidewalk that he was being forced to limit sales to an eighth of an ounce to each person, though under the new state law, a resident can buy up to an ounce.
The dispensary will close at 7 p.m. MT, but Andrews said he may have to start turning people away at 4 p.m. The line had gone out the front door, down the street and around the corner by 2 p.m. MT, when more than 400 people had made purchases.
In all, Andrews counted buyers from several states and countries. Buyers showed IDs from Vermont, Arizona, Georgia, Oregon, Wyoming, Louisiana -- and even Alaska and Hawaii. Other prospective weed buyers came from Canada, Australia and Italy, though the Italian man, 21, walked away because he had to catch a bus for his tour of America.
South of downtown, the Evergreen Apothecary was encountering the same phenomenon: 700 people in line took numbers, but employees said they might not be able to serve all of them by the close of business.
The atmosphere at the dispensaries was clearly celebratory and cheerful. For example, about 10 miles outside of downtown, one man said he had waited in the snow since 2:30 a.m. for the Medicine Man dispensary to open at 8 a.m.
When asked how he felt after making the first sale there, he responded: "I'll feel better in an hour."
Applauding, criticizing the new law
Even before the weed went on sale, enthusiasts were anticipating the end of an era.
"Prohibition is over," blared a flier for New Year's Eve festivities at Casselman's Bar in Denver. "Celebrate Cannabis freedom in style."
As many as 30 stores throughout Colorado will sell recreational weed. Of the estimated 30 stores, 18 are in Denver.
"With Washington state next to implement marijuana legalization and other states strongly considering enacting similar laws, we believe this marks the beginning of the end of the nation's decades-long war on marijuana and its harmful human and fiscal toll," Ezekiel Edwards, a director at the American Civil Liberties Union, said in a prepared statement.
But not everyone was applauding.
"Legalization -- with all of the American-style promotion that will accompany it -- is the last thing people in recovery, parents, communities -- and even our nation -- need right now," Smart Approaches to Marijuana said on its website.