Colorado's recreational marijuana stores make history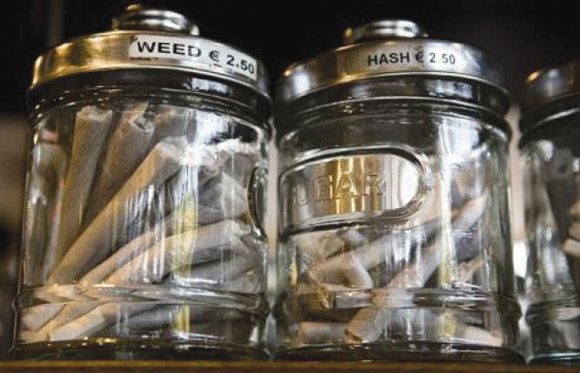 DENVER, Col., -- Iraq war veteran Sean Azzariti described his purchase of recreational marijuana -- legally -- as a historic moment Wednesday.
"It's huge," he said at a marijuana store along a light industrial corridor outside downtown Denver. "It hasn't even sunk in how big this is yet."
Indeed, before the 3D Cannabis Center opened at 8 a.m. MT, more than 100 people were waiting in snowfall and cold under gray skies to be the next buyers of recreational pot under a landmark law voters approved in 2012. The dispensary was one of a handful that opened to lines of waiting people on New Year's Day, with scores more expected statewide in coming months.
Azzariti was selected to be the first buyer at the 3D Cannabis Center because he was a Marine from 2000 to 2006 who now suffers post-traumatic stress disorder after two tours in Iraq. He can't obtain medical marijuana in Colorado because PTSD isn't a qualifying condition for that treatment, he said.
"This is what we worked so hard for the last few years," he said of the voter-approved constitutional amendment that led Colorado to become the first state in the nation to open recreational pot stores to anyone age 21 and older. "It's mind-blowing."
Azzariti, 32, bought an eighth of an ounce of pot, plus chocolate truffles laced with marijuana. Those treats are called "edibles" at the store.
The price: $59.50.
The marijuana alleviates the anxiety and stress that come from PTSD, he said, adding that he'll smoke the pot Wednesday evening.
At several recreational weed stores, buyers waited in line for three or four hours to be a part of opening-day history. Despite the hundreds of people queuing on public sidewalks, no significant problems emerged Wednesday, Denver officials said.
"I want to thank the businesses and consumers alike for acting responsibly and with great accountability today," Denver Mayor Michael B. Hancock said in a statement. "Denver is a progressive city, a vibrant city, and it's incumbent on all of us to continue getting this right."
Long lines
Even three hours after the stores opened, one downtown Denver dispensary had a line of about 100 people outside the front door to the corner. The snow had stopped falling by then, and the gray skies were clearing to blue.
While patrons -- young and the old, men and women -- waited patiently in line, the demographic at the downtown dispensary tilted more toward 20- and 30-somethings.
When many buyers emerged from the store and nudged through the line, they raised their bags of newly purchased pot above their heads.
People waiting on the sidewalk cheered them.
Even though recreational weed is now legal, some purchasers declined to disclose their last names.
One woman, Dee, who didn't want to use her surname, said she waited in line for almost three hours to buy her cannabis. She and a male companion bought a small amount, she said, just to commemorate the occasion.
"We voted for it, and now it's here," Dee said of the recreational marijuana law. "We just went in and celebrated the new law. It's a new day."