LPAC to close season with top acts in music, comedy and classic theater
Something for all ages this spring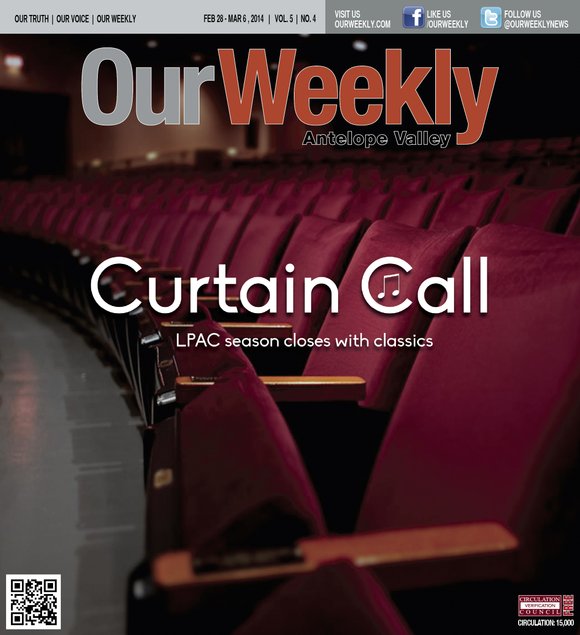 Ringwald is also a novelist, having penned Getting the Pretty Back: Friendship, Family and Finding the Perfect Lipstick (2010) and When It Happens to You: A Novel in Stories (2013).
—"Hair" comes to town on March 23 for a 3 p.m. matinee. Sometimes referred to as the "American Tribal Love-Rock Musical," the 1967 musical began as an off-Broadway revue of the '60s counterculture and the sexual revolution with songs penned by James Rado and Gerome Ragni. In the late '60s, "Hair" explored America through the eyes of the hippies and was controversial in its depiction of racism, environmental destruction, poverty, sexism/sexual repression, politics and the war in Vietnam. Thus, long hair was the mantra of the hippies and wheter it was flowing blond manes, shaggy beards, or defiant Afros, the hairstyle was used as a symbol not only of rebellion but also as a rejection of "establishment" boundaries, racial segregation as well as restrictive gender roles. The show is most famous for its universal themes of individuality, experimentation and acceptance in the face of oppression and social rejection.
Clothing from other cultures, particularly the Third World and Native Indians, came to represent the hippies' awareness of the global community and their rejection of American imperialism abroad and commercialism at home. "Hair" also integrated the Broadway musical as one-third of the original cast was African American.
Among the chart-topping hits that became anthems of American counterculture are "Aquarius/Let The Sun Shine In," "Good Morning, Starshine," "Easy to be Hard" and the title tune. All of the original songs and a few new ones from the original production will be performed live by The Tribe.
—Comedian Jim Breuer will perform at 8 p.m. on March 28. Breuer drew much of his early fame as a cast member on "Saturday Night Live" and is among the most popular comedians on the stand-up circuit. From charismatic stage antics, dead-on impressions and family-friendly routines, Breuer toured for years before landing a job with producer Lorne Michael's comedy ensemble. He became known for an original character, "Goat Boy," host of a fictional MTV program, as well as impressions of tough-guy actor Joe Pesci. In 2009, Breuer's second one-hour Comedy Central special, "Let's Clear the Air," became one of the network's highest-rated productions. He has also hosted several episodes of "Premium Blend" on Comedy Central.
Breuer is host of "Fridays with Jim Breuer" on the Sirius Satellite Radio channel and also penned the satirical book "I'm Not High (But I've Got a Lot of Crazy Stories About Life as a Goat Boy, a Dad and a Spiritual Warrior).
—"Rock of Ages" comes to town for two performances, 3 p.m. and 7 p.m., on April 13. The show is an homage to '80s Pop and Heavy Metal and features the songs "Don't Stop Believin'" by Journey, "We Built This City" by Jefferson Starship, "Wanted Dead or Alive" by Bon Jovi, "Can't Fight This Feeling" by REO Speedwagon and "I Want to Know What Love Is" by Foreigner.
Set in 1987, "Rock of Ages" centers around a small town girl, Sherrie Christian, who just arrived from Paola, Kan. in search of Hollywood dreams. She subsequently meets a a big city rock star, Drew Boley, at the fictional "Bourbon Room" somewhere on the Sunset strip and the two fall in love amid the glitz and glitter of the decade's biggest Top 40 hits. Lonny Barnett is the narrator who guides the audience through the "sex, drugs and Rock 'N Roll" aspect of the Hollywood music business.